By Bai Yang, People's Daily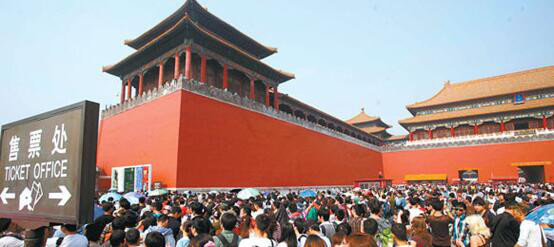 Visitors at the Forbidden City before the abolition of window ticket sales. (File photo)
One of the most tourism sites in China, the Palace Museum, or Forbidden City will close its ticket windows, and all 80,000 tickets will be sold only online from Tuesday. Visitors can log onto the official website of the museum or scan the QR code for a ticket, which means the scenario of massive visitors queueing up to buy a ticket will no longer to be seen owing to China's rapid development in mobile payment.

"The ticket office that has lasted for 92 years has stopped service. Visitors can visit the museum more conveniently because of more advanced technology," said Shan Jixiang, curator of the Palace Museum.

The decision came six years after the ticket selling online trial on September 25, 2011. They sold just 287 tickets totally.

While ticket windows closed, special service windows will remain open for foreign travelers lacking Chinese payment channels, visitors without mobile phones or those who have difficulty booking tickets online.

Owing to the rapid development of China's mobile payment technology, the ancient imperial palace has entered the cashless era. Mobile payment has developed fast in China in recent years, utterly altering people's lives.

Statistics shows that the number of Chinese mobile payment users hit 469 million as of December 2016, with an annual growth rate of 31.2 percent. What's more, the proportion of mobile payment users rose from 57.7 percent to 67.5 percent, and 50.3 percent of Internet users also use it at physical stores.

Data also says that the trade volume of China's mobile payment reached as high as $8.5 trillion in 2016, 70 times the US figure. China, with the most mobile payment users around the world, has become a global leader in e-commerce and mobile payment. As a result, its information consumption and application market embraced rapidest growth and great vitality

China has become a leading global force in digital investment and application, with the achievements beyond expectations, said a paper issued by the McKinsey Global Institute this September.

China still has huge potential for digital development, which can be evidenced by its huge market volume, the government's active encouragement of digital innovation by giving them room to experiment and offering proper supervision as well as the expanded digital ecosystem represented by the three giant internet companies in China -- Baidu, Alibaba and Tencent, or BAT – said the the report headlined "China's digital economy: A leading global force".

Through export of new business models and technologies, China is also altering the digital landscape worldwide and is likely to exert a major impact on the world economy, the report said.