By Yang Ou, Qiang Wei, Qu Song, People's Daily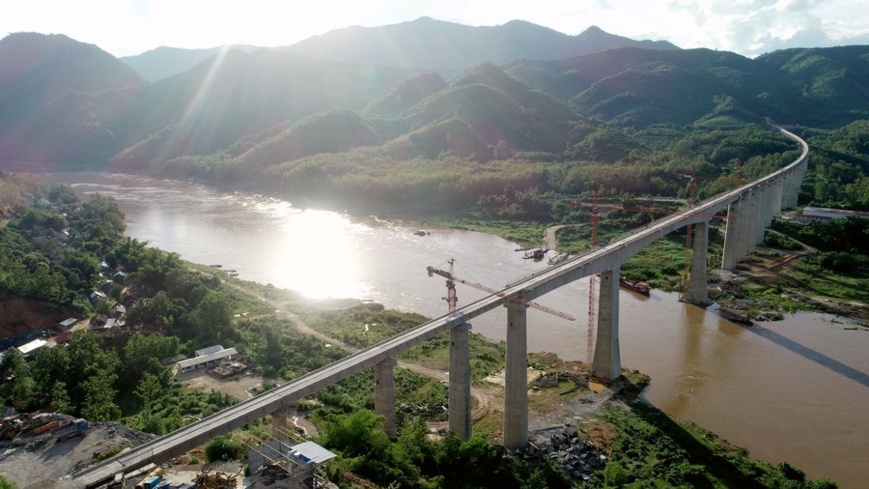 Aerial photo taken on July 15, 2020 shows the view of the Ban Ladhan Mekong River Super Major Bridge located some 230 km north of Vientiane, capital of Laos. (CREC-8/Handout via Xinhua)
Recently, the 2023 Lancang-Mekong Cooperation Media Summit hosted by People's Daily kicked off in Beijing.

Themed "Promoting People-to-people Bonds for a Better Shared Future," the summit was joined by over 130 representatives from relevant departments and mainstream media of China, Cambodia, Laos, Myanmar, Thailand and Vietnam, who had in-depth exchanges on promoting economic recovery and deepening media cooperation.

Lancang-Mekong Cooperation (LMC) mechanism has achieved fruitful results since it was initiated in 2016. It has demonstrated a Lancang-Mekong speed and efficiency, and fostered a Lancang-Mekong culture featuring equal treatment, sincerity, mutual assistance and family-like closeness.

President of People's Daily Tuo Zhen said in his speech that it is important that media outlets dig deep into the concrete actions and measures of LMC to demonstrate its progress and potential, and present the tangible benefits created by the cooperation to the world.

He encouraged relevant media outlets to make use of the features and advantages of local cultures to promote people-to-people exchanges, build a bond between peoples, tell the stories of mutual friendship and assistance, and make the public foundation of LMC even more solid.

Qian Hongshan, vice-minister of the International Department of the Communist Party of China Central Committee, noted that media outlets of the six countries of LMC should meet challenges together and share responsibilities, tell LMC stories of common development and shared benefits, nurture the friendship of the six countries along the Lancang-Mekong river, and demonstrate their vision of building a shared and win-win future, so as to win solid public support for building a community with a shared future for Lancang-Mekong countries and even Asia at large.

LMC, as the first new type of sub-regional cooperation mechanism launched by riparian countries based on wide consultation, joint contribution and shared benefits, has been growing at a high level since its inception, becoming a golden model of success for subregional cooperation.

In 2022, trade between China and the five Mekong countries reached $416.7 billion, up by 5 percent year on year. The China-Laos Railway, Phnom Penh-Sihanoukville Expressway, China-Vietnam freight train and other projects are also contributing to the interconnectivity in the region.

Vansay Tavinyan, deputy head of the Propaganda and Training Board of the Central Committee of Lao People's Revolutionary Party, editor-in-chief of Lao Pasaxon Newspaper, has visited China multiple times to observe China's economic and social development and poverty reduction.

Calling LMC a model of regional cooperation, he said the mechanism has made important contributions to the economic and social development of the six countries. He urged media outlets from the six countries to further strengthen cooperation to publicize the measures launched by these countries to jointly safeguard the ecology along the Lancang-Mekong river and promote sustainable development of the region.

"Media outlets from the six countries could launch regular communication activities for mutual learning," he said.

Deputy director general of Cambodia's state-owned news agency Agence Khampuchea Press Khan Sophirom said that countries along the Lancang-Mekong river enjoy huge potential in economic and political development, and the summit reflected their firm determination to cope with challenges and promote sustainable development.

He called on media outlets from these countries to enhance cooperation, deepen traditional friendship and contribute to building a Lancang-Mekong community with a shared future.

Sudruethai Lertkaserm, deputy director-general of the Government Public Relations Department of Thailand hailed the fruitful results of LMC over the years. She hopes that the six countries could enhance communication on information sharing, culture, environmental protection and green development.

Assistant minister of foreign affairs of China Nong Rong said in his speech that China is advancing high-quality development and Chinese modernization on all fronts, which will bring new development opportunities for the rest of the world, especially its surrounding countries.

China will stick to the policy of forging friendships and partnerships with its neighbors, and work with relevant countries to build the Lancang-Mekong region into a demonstration area for high-quality Belt and Road cooperation, a zone of pioneering efforts under China's Global Development Initiative and the Global Security Initiative, and the best example of the Global Civilization Initiative.

Vu Mai Hoang, member of leader board of Vietnam's NhanDan newspaper and editor-in-chief of NhanDan Weekend, said that people-to-people exchanges remain an important way for people from different countries to share experiences and consolidate friendship, and news media plays an important role in promoting such exchanges.

Media cooperation under LMC is particularly relevant for promoting people-to-people communication and regional cooperation and development, he added.