By Nicholas Dweh Nimley (People's Daily Online)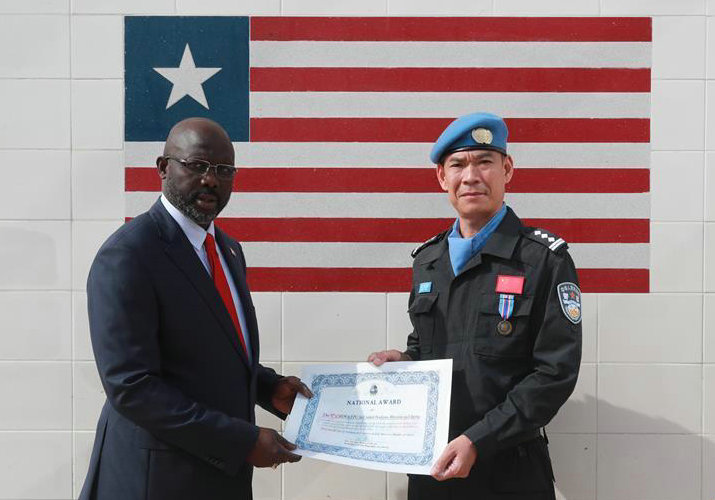 A Liberian government official has recently praised China for launching the Belt and Road Initiative. Augustus J. Flomo, Deputy Minister for Economic Management at Liberia's Ministry of Finance and Development, said the initiative, which seeks to connect the rest of the world, is historic.

He believes that the Belt and Road Initiative will ensure economic growth and boost trade among countries along the partnership corridors. It pushes the main goals of infrastructure connectivity and capacity cooperation, which fit in with goals of Africa's agenda 2063.

Flomo spoke at the 2018 Africa-China Poverty Reduction and Development Conference, as part of the Forum on China-Africa Cooperation, organized by the International Poverty Reduction Center (IPRC) in China on August 14.

He also expressed the need for China to share its knowledge and skills in alleviating poverty to help Africa, as the continent makes efforts to achieve the Sustainable Development Goals (SDG) Pillar I by 2030.

SDG Pillar I calls for countries around the world to initiate programs to ensure that poverty is alleviated by 2030. Flomo noted that it was important for China to transfer practical and applicable ways for countries to execute successful poverty alleviation programs.

China has a successful poverty alleviation story, lifting 800 million people above the poverty line since its reform and opening up 40 years ago.

"We need to work and learn from the Chinese, how they have been able to execute their poverty alleviation program" he added.

During the conference, the Liberian deputy minister informed delegates that his government has a robust plan to remove several thousand Liberians from poverty in the next five years using the 'Pro-Poor' Agenda.

The three-day conference has drawn delegates from over 40 African countries, as well as representatives from the UNDP, UNFPA, AU, China, and experts from Africa and China.

Speaking earlier, Liu Yongfu, Minister of the State Council Leading Group Office of Poverty Alleviation and Development of China, explained that the Chinese have walked from a deficient life to an affluent one and marched from poverty to a well-off society. He said that since 2005, China has been sharing knowledge and experience with Africa regarding poverty alleviation.

Liu explained that the IPRC organized three China-Africa Youth Exchange Programs on Poverty Reduction and Development to further enhance Chinese and African youths' understanding of poverty reduction and to strengthen friendship through discussion and field visits.

He added that China and Africa have fully communicated to enhance poverty reduction cooperation and have reached an important consensus, publishing an outline on strengthening poverty reduction cooperation between China and the African Union.

Statistics from the UN revealed that over 767 million people were living below the international poverty line of $1.90 per day in 2013, much lower than the 1.7 billion in 1999.

However, China still faces the cumbersome task of lifting the last 30 million people out of poverty by 2020. Over 800 million people have risen out of poverty in China, and this is a massive achievement and a contribution to global poverty reduction.