By Zhong Sheng, People's Daily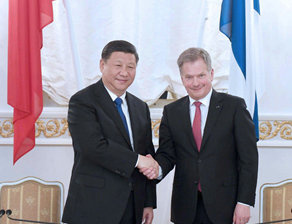 Chinese President Xi Jinping headed to Finland for a state visit on Tuesday. It marks Xi's first trip to a Northern European country as a head of state, as well as the first one by a Chinese president to Finland in 22 years.

One can gallop toward any distant destinations with a willing horse, and conquer all the difficulties with help from good friends. Finland was among the earliest Western countries to establish diplomatic ties with the new China, and also the first Western nation that inked an inter-governmental trade agreement with China.

Back to 1952, China's five-starred red flag for the first time fluttered above an Olympic stadium thanks to the invitation of Finland, the host of 15th Summer Olympics held in its capital city Helsinki.

In 1970s, the European country was also among the minority Western supporters for restoring China's legitimate seat in the UN.

Xi, in a signed article entitled "Our Enduring Friendship" published on Finnish newspaper Helsinki Times ahead of his visit, gave the best interpretation to the profound friendship between the two peoples.

"At present, China and Finland are working to build a future-oriented new-type cooperative partnership. This provides tremendous opportunities for expanding our relationship," he wrote in the article.

The historic course has proven that both countries can only retain a vigorous and friendly cooperation by bearing the long-term and strategic significance in mind, upholding mutual respect, treating each other as equals, and seeking common development through mutually beneficial cooperation.

Finland is now China's third largest trading partner in Northern Europe, while China has been the former's largest trade partner in Asia for consecutive 14 years.

The European nation with a population of less than 6 million, as of 2016, had invested 541 projects in China, with the value totaling 1.36 billion dollars.

It is the innovation that broadens the prospects of bilateral collaboration. Since the "Thirteenth Five-Year Plan" China is devoted to shares multiple converging grounds with the European nation's strategic plan named "Vision: Finland 2025", both sides are presented with huge potential in their pragmatic cooperation in innovation, entrepreneurship, clean energy, bio economy and Arctic research.

Fruitful outcomes can definitely be yielded from such collaboration, of which the Sino-Finnish cleantech program named "Beautiful Beijing" and Finchi Innovation Center can serve as representative evidence.

The public of both countries are aspiring for a closer economic and trade relationship. Matti Vanhanen, former Finnish Prime Minister, said that China's efforts to shift its economy towards a more sustainable growth have provided abundant opportunities for the clean energy, forestry and innovation technology industries of Finland.

Finland shares similar development philosophy with China, added Vanhanen, current chairman of the Foreign Affairs Committee in the Parliament.

Finland is an EU state and the only Eurozone member in Northern Europe, so its relationship with China is also a key component of the overall Europe-China ties. As a staunch supporter to free trade, the country shares idea with China in global governance.

Given the current challenges laying ahead European integration and complicated changes in regional arena, China has stressed on multiple occasions that a prosperous and stable Europe is conducive to peaceful development of the world.

Believing that Europe has the wisdom and capabilities to overcome obstacles, China is willing to be a reliable partner of the continent.

It is expected that Xi's upcoming tour will deepen China-Finland cooperation, promote sub-regional cooperation between China and the Northern Europe and boost China-EU collaboration.