By Qu Xiangyu, Li Feng from People's Daily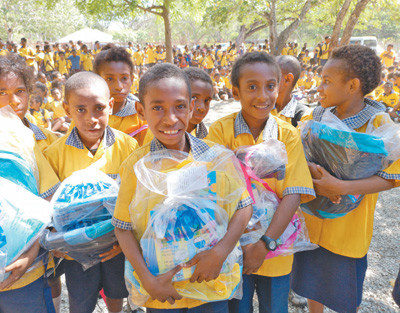 Students of the Waigani Primary School in Port Moresby, capital city of Papua New Guinea (PNG) are presented with gifts from China on November 12, 2018. (By Qu Xiangyu from People's Daily)
Each student of the Waigani Primary School in Port Moresby, capital city of Papua New Guinea (PNG) was presented with a gift from China on November 12th--a new school bag containing colored pencils, pencil cases, solar desk lamp as well as other kits and stationeries.

The donation of school utensils, themed "Brightness and Books", was organized by Beijing MW Foundation under the support of the Information Office of the State Council, Chinese Embassy in PNG as well as PNG's Department of Education.

Happy to be a recipient of the special gifts, seventh-grader Bol said the cartoon pictures on bags are cute and the fine-printed books interest him a lot after he looked through the catalogue.

Dozens of students from the school also performed traditional dances to extend their gratitude to Chinese friends and special gifts from them.

Taking the power deficiency in PNG into consideration, a solar desk lamp was prepared for each student for the convenience of night study, said the organizer.

Principal of Waigani Primary School Morse Mudakm, who is grateful for the school utensils presented by China, said that the school bags, books, solar desk lamps and other supplies are very useful for the students.

The principal hoped that China could continue their help to PNG's schools in the future and bring bright future for more students.

Thankful to the Chinese guests coming from afar, Michael Esop, chairman of the school's administration committee, believed that the Chinese donation this time, which is the first of this kind for primary schools in PNG's capital city, will mark a brand new start for education cooperation between PNG and China.

The chairman told the People's Daily that some private international schools in his country have offered Chinese classes and more schools will do so given the increasingly closer economic and cultural exchanges between the two countries.

China provides development opportunities for PNG, and more and more young people here hope to know more about China, Esop said.

The "Brightness and Books" donation is an international education assistance program initiated by Beijing MW Foundation, with an aim to support the basic education undertakings of needed countries by donating books, stationeries and other school supplies.

Since its launch in October 2016, it has benefited students in a number of developing countries such as Cambodia, Laos and Rwanda, and received greetings from local governments, education institutions and the public.