By Xie Yahong, Zhang Danhua, Qu Pei, People's Daily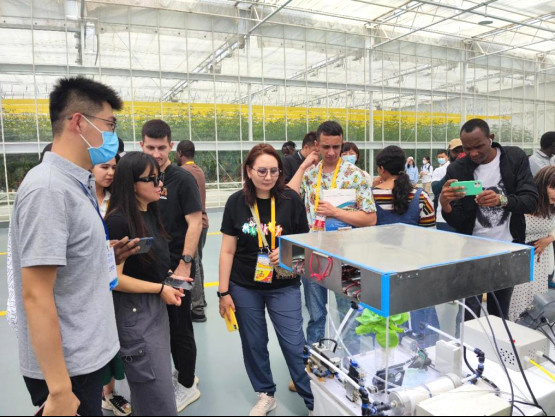 Foreign journalists covering the China-Central Asia Summit visit Yangling Agricultural Hi-tech Industrial Demonstration Zone in northwest China's Shaanxi province, May 20, 2023. (Photo by Xing Bo)
Westward from Xi'an, northwest China's Shaanxi province, the start of the ancient Silk Road, there lie a number world-renowned cities, including the "City of Apples" Almaty, the "Sunny city" Tashkent, and "Garden City" Bishkek.

Today, chapters of Silk Road cooperation are being renewed in these cities as demonstration bases for agricultural technology exchange and training are built there by the Shanghai Cooperation Organization (SCO).

At the 19th meeting of the Council of Heads of State of the SCO held on June 14, 2019, China proposed to set up an SCO demonstration base in Shaanxi province for exchange and training on agricultural technologies to strengthen cooperation on modern agriculture with other countries in the region.

Since the base was built in Shaanxi's Yangling Agricultural Hi-tech Industrial Demonstration Zone, it has become a role model of SCO cooperation on agricultural technologies and a major force driving the development of agricultural technologies under the framework of the Belt and Road Initiative.

Marat Muratkhan is a student from Kazakhstan studying at the College of Food Science and Engineering, Northwest Agriculture and Forestry University in Yangling. Apart from being a student, he's also an employee of a cross-border trade company. When the SCO demonstration base for exchange and training on agricultural technologies was built in 2019, Marat Muratkhan sensed the smell of opportunities and entered the China-Kazakhstan trade firm. His job is to help Kazakh beef and mutton dealers export their products to China.

"My learning and work experiences in China are very valuable, which help me a lot in the Kazakhstan-China trade business," he told People's Daily.

Technological exchange remains an important part of SCO agricultural cooperation, and the SCO demonstration base for exchange and training on agricultural technologies has expanded the fields of cooperation between China and other SCO countries.

The foot-and-mouth disease once troubled Kyrgyzstan. The SCO demonstration base launched training programs for the Kyrgyz side on animal and plant inspection and quarantine as well as disease prevention and treatment.

Besides, it also helped Kazakhstan introduce new wheat varieties from China. In Tajikistan, an agriculture and textile industrial park has been built under China-Tajikistan cooperation, which now houses over a dozen hectares of cotton fields and multiple cotton rolling factories.

On May 31, the Uzbek National Commodity and Raw Materials Exchange settled in the trade and investment promotion center of the SCO demonstration base for exchange and training on agricultural technologies. It marked a new and important step of SCO economic and trade cooperation in agriculture.

Over the past four years, Yangling Agricultural Hi-tech Industrial Demonstration Zone has worked actively to expand the paths of agricultural opening up.

It has established eight demonstration parks for agricultural technologies in Kazakhstan and other countries, sent 194 agricultural experts overseas for assistance in 73 batches, and promoted more than 100 improved crop varieties and corresponding planting techniques, which are grown on over 2 million hectares of land outside China.

Besides, it has also launched 56 agricultural training sessions for other SCO countries and developing countries, which were joined by more than 2,000 people.

Pakistani Prime Minister Muhammad Shehbaz Sharif noted that agriculture is a pillar of Pakistan's economy and an important source of the country's foreign exchange, and the SCO cooperation on agricultural technology has brought new opportunities for Pakistan's agricultural development.