By Li Yanan, People's Daily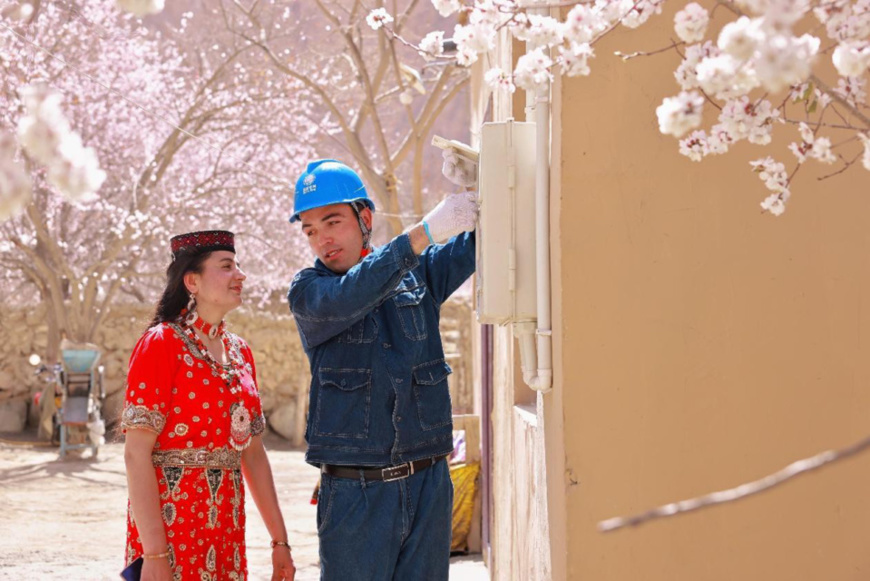 An electrician of a local power supply company launches an electricity inspection for residents in northwest China's Xinjiang Uygur autonomous region. (Photo by Wang Kang)
Located in the hinterland of the Pamir Plateau and surrounded by mountains, Datong township in Taxkorgan Tajik autonomous county, northwest China's Xinjiang Uygur autonomous region once had no stable supply of electricity. Its source of power included only a small hydropower plant and some solar panels.

Three years ago, the township was connected to the power grid. The stable supply of electricity has brought drastic changes to the township, making residents' life more convenient, industrial development more efficient and public services more developed.

"Welcome to my home. Please come in," said Sayifnazir Kurban, who runs an agritainment facility in Datong township, while guiding Zhang Hang and other five tourists from Beijing into her house.
From a freezer in the house, she took a pot of homemade yogurt and invited the tourists to have a taste of it.

After enjoying the yogurt, Zhang and his friends unpacked and took a hot shower, which significantly eased their travel fatigue.

"Before I came here, my friends who visited the township a couple of years ago told me to find a hotel in the county seat. They said the accommodation was poor in the township because the power supply was poor, though it has beautiful sceneries. I didn't expect that so many changes have taken place here in the recent years," Zhang told People's Daily.

The agritainment facility of Sayifnazir Kurban was transformed from the woman's resettlement house in 2019. However, the business was gloomy due to the power shortage.

"It was totally impossible to make iced yogurt. Freshly made yogurt would go bad the next morning. There was no way for us to have fresh meat, too. Most of the dishes on our menu were made of air-dried beef. We literally had to have 'candlelit dinners' at night," the woman recalled.

Today, with stable power supply, Sayifnazir Kurban can finally keep fresh food in her refrigerator and freezer, which has lengthened her menu.

In the evening, she made pilaf and braised mutton for Zhang and his friends, and they enjoyed the meal over a joyful conversation under the light.

After the guests went to sleep, Sayifnazir Kurban started editing the video clips she filmed in the daytime and posted them on short video platforms to advertise her hometown and agritainment facility.

"Many people asked me about the accommodation after watching my videos, and some called me to book rooms," she said.

According to the woman, she received 20 guests at most a day. As of the start of April, she had already gained about 20,000 yuan ($2,796) from the agritainment facility.

The stable supply of electricity is powering the development of the township. Today, Datong is home to 68 agritainment facilities, as well as many convenient shops and restaurants. Several jade processing workshops also started operation in the township. Compared with the sales of raw jade, jade processing is more profitable.

According to mayor of Datong township Alimjan Shirin, the per capita annual income of residents in Datong increased from 8,264 yuan in 2020 to 11,910 yuan last year. "Residents' sense of fulfillment and happiness has been constantly improved," he said.

In a classroom of the central primary school of Datong township, principal and Chinese teacher Li Yuan was teaching a class to students, highlighting important parts of the text on a big screen.

"The classroom was upgraded in the second half of last year. Electric heaters have been installed in classrooms, dormitories and faculty apartments. Now the students can study and rest in warm and safe rooms. It's much better than using coal furnaces," Li told People's Daily.

The days were hard for Li when she just came to the primary school from north China's Shanxi province in 2019.

"Teachers cooked with electric stoves, which always triggered blackouts or short circuits in peak hours. We had to take turns to cook and boil water for students, especially in winter," Li said.
The most difficult part, according to the woman, was communication, because the mobile phone signal was poor around the school and to make a phone call she had to get close to the township government office.

Li is quite satisfied with the township's connection to the power grid. "Now an expansion program of the school is underway, and the school is also better facilitated. I'm looking forward to the school's future development," she told People's Daily.

After the sun went down, lights were turned on in the offices on the first floor of the township clinic, where doctors were collating the results of physical checkups completed in the daytime.

Fezari Jami, head of the clinic, noted that the clinic is now able to do a number of physical examinations including comprehensive metabolic panel, complete blood count, B-scan ultrasonography of abdomen and mammary gland, electrocardiography and X-ray scan.

Local residents can finally have complete physical checkups here and don't have to send blood samples to the county hospital anymore, Fezari Jami said, adding that examination reports are now generated by computers, which is more efficient and convenient.