By He Yin, People's Daily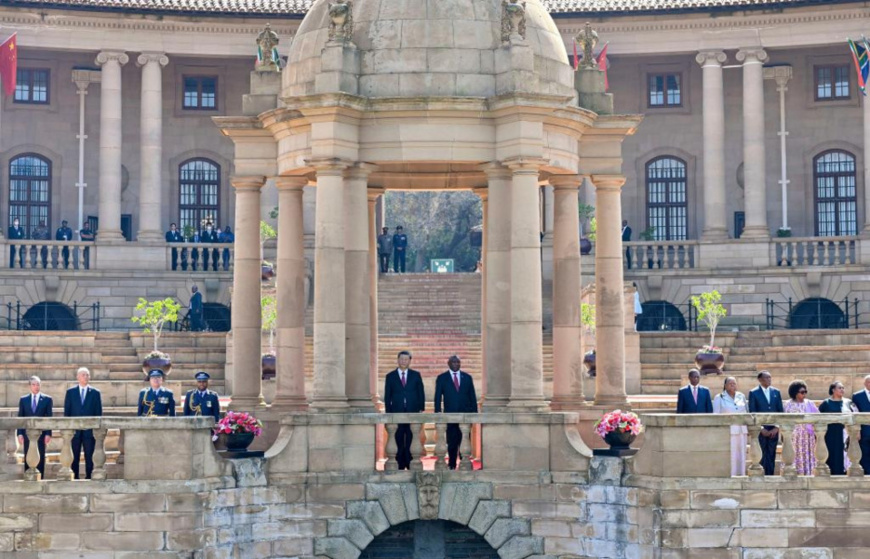 Chinese President Xi Jinping and South African President Cyril Ramaphosa hold talks in Pretoria, South Africa, Aug. 22, 2023. (Xinhua/Yin Bogu)
Chinese President Xi Jinping said China and South Africa should be strategic partners of high-level mutual trust, development partners making progress together, friendly partners enjoying mutual understanding and global partners with a commitment to justice.

President Xi made the remarks when holding talks with his South African counterpart President Ramaphosa during a state visit to South Africa on Aug. 22 local time.

What he said charts the course and provides guidance for further developing China-South Africa ties.
The two heads of state had an in-depth exchange of views on the development of China-South Africa relations in the new era and international and regional issues of mutual interest, and they reached important common understandings, injecting strong momentum into elevating the China-South Africa comprehensive strategic partnership and building a high-quality China-South Africa community with a shared future.

In the past 25 years since China and South Africa established diplomatic ties, their relationship has achieved leapfrog development - from a partnership to a strategic partnership, and then to a comprehensive strategic partnership. It is one of the most vibrant bilateral relations in the developing world. Especially in the past 10 years, the relationship has thrived and entered a "golden era." As the situation evolves, how to further deepen the comprehensive strategic partnership remains a topic that both sides need to work on.

The key to the strong relationship and profound friendship lies in the mutual support by the two countries and the two political parties in pursuit of their respective development, Xi said when meeting with Ramaphosa.

South African sinologist Paul Tembe said that Xi's every visit to South Africa has promoted the development of South Africa-China ties, which is an intangible but enormously meaningful gift.

Comradeship and brotherhood are inherent to the bilateral relationship. The special bond of "camaraderie + brotherhood" between the two countries has traversed a long span of time and defied the obstacles of mountains and oceans.

"Each of my visits to South Africa gave me new impressions. But the deepest is invariably the brotherly sentiments we have toward each other," Xi said in an signed article published on South African media.
Ramaphosa described China as a sincere brother, friend and partner of his country, saying that China has provided valuable support to South Africa in its struggle for national independence and liberation as well as its national development. He also mentioned China's timely support for his country during the COVID pandemic.

During this visit, the two sides reaffirmed their respect and support for each other's sustainable social-economic development paths and just transitions. South Africa pledged continuous support for China on issues concerning its core interests and major concerns. China reiterated its respect and support for South Africa's efforts to safeguard its national interests and social economic development and to better the livelihoods of its citizens. This fully demonstrates that China and South Africa are strategic partners of high-level mutual trust.

Mutual benefit and win-win results are the hallmark of China-South Africa cooperation. South Africa was the first African country to sign the Belt and Road cooperation document with China. It has been China's biggest trading partner in Africa for 13 years in a row, as well as one of the African countries with the largest stock of Chinese investment.

Xi said that with a focus on Belt and Road cooperation, implementation of the nine programs of the Forum on China-Africa Cooperation as well as the 10-Year Strategic Program of Cooperation, the two sides need to consolidate cooperation in areas of strength and foster new growth points for cooperation.

Close ties between the two peoples are a vivid example of amity between the two countries. Xi said the two countries should strengthen exchange and cooperation on vocational education and youth employment, ramp up cooperation on tourism, and support closer technological cooperation and joint research by scientific research institutions and businesses.

The two presidents witnessed the signing of bilateral cooperation documents on Belt and Road cooperation, infrastructure, new energy, agricultural product, special economic zone, industrial park, blue economy, technological innovation and higher education.

As development partners making progress together and friendly partners enjoying mutual understanding, China and South Africa will deliver greater benefits to both peoples.

The China-South Africa relationship has gone beyond the bilateral scope and carries increasingly important global influence. The world has entered a new period of turbulence and transformation. China and South Africa, as natural members of the Global South, should all the more work together.

China and South Africa agreed to continue supporting the development of BRICS in all three pillars of cooperation and to collaborate with all BRICS members to deepen practical cooperation in various fields and achieve progress in terms of BRICS membership expansion.

The two sides agreed to enhance cooperation in international affairs and multilateral institutions, jointly uphold the UN-centered global system, an equitable international order underpinned by international law, and the basic norms governing international relations, based on the purposes and principles of the UN Charter, including to uphold the rights and interests of developing countries jointly and respect for national sovereignty and territorial integrity.

The two countries' collaboration in the multilateral arena fully demonstrates their determination to be global partners with a commitment to justice. They will definitely make new contributions to building a more just and equitable global governance system.

The China-South Africa relationship is standing at a new historical starting point. To carry forward the friendship, deepen cooperation, and strengthen coordination is a common aspiration of both countries, as well as a call of the times.

Under the guidance of the two heads of state, the China-South Africa comprehensive strategic partnership will definitely be lifted to new heights and contribute more strength to China-Africa cooperation, South-South cooperation, and to building a China-Africa community with a shared future in the new era and a community with a shared future for mankind.