By Xu Wei from People's Daily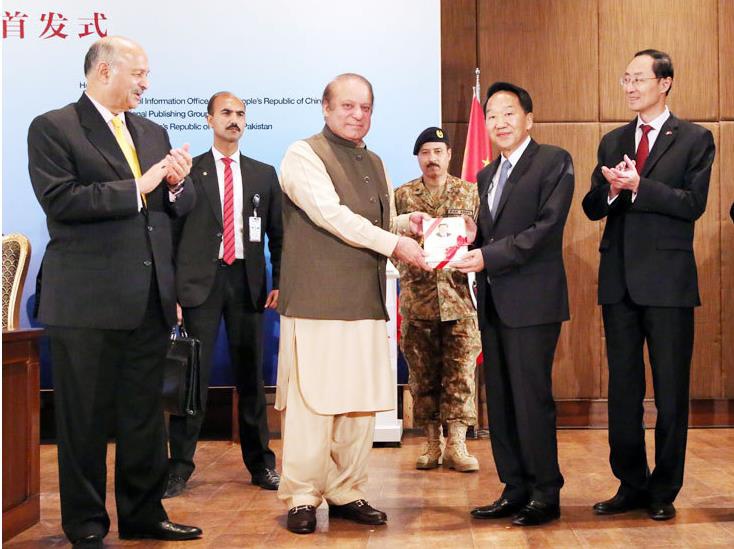 The Urdu edition of the book "Xi Jinping: The Governance of China", which collects speeches, talks, interviews, notes and letters of the Chinese leader, was released on Friday in Islamabad, capital of Pakistan.

The launching ceremony, organized by State Council Information Office, China Foreign Languages Publishing Administration as well as Chinese Embassy in Pakistan, attracted more than 300 Pakistani and Chinese officials, academicians and researchers.

Pakistani Prime Minister Nawaz Sharif unveiled the ceremony together with Jiang Jianguo, director of the State Council Information Office.

Sharif said that the rich content of the book, in which Chinese President Xi Jinping shares his experiences and thoughts with wisdom, empathy and kindness, is both "enlightening and inspiring".

Hailing Xi as a great leader of China and of the world, as well as a reliable friend of Pakistan, the prime minister stressed that the book is not just about high politics, but also about moving stories of ordinary people, their lives and inspirations about hard work and family values.

"The book is as much about our contemporary world as it is about China," he noted, adding that China's unique experience in state administration and reforms can offer enlightenment to the rest of the world.

Sharif added that Pakistan, an all-weather strategic cooperative partner of China, is now engaged in participating the Belt and Road initiative, and feels proud to build the China-Pakistan Economic Corridor (CPEC) with China.

For his part, Jiang said that thanks to the direction pointed out by Xi's governance ideas, China has yielded remarkable accomplishments from various undertakings since the 18th National Congress of the CPC in 2012.

To create a community of shared future of mankind is an important governance idea of Xi, and the conception, which aims to seek the common value and interest of all countries in the world, is a cure-to-all remedy to many global challenges, Jiang added.

Marriyum Aurangzeb, Pakistan's Minister of State for Information Broadcasting & National Heritage, told the People's Daily that the book, in a detailed way, expounds on Xi's governance philosophies and gives an explanation to the reasons behind China's rapid economic and social progress in recent years.

"It is a good model that Pakistan can refer to in its development course," she said.

Praising the long-standing friendship between both countries, the minister said that as the construction of the CPEC is making headway, Pakistan needs national governance as good as China, so that it could propel CPEC construction and contribute more to regional stability and prosperity.

The publication of Urdu version will help spread Xi's governance philosophy to Pakistani citizens, and governmental departments at all levels should absorb the experience written in the book, in order to improve their administration capabilities and better benefit local residents, Aurangzeb added.

Akram Zaki, former Pakistani ambassador to China, said that he was impressed by Xi's great insight and foresight to benefit the whole mankind after studying the book's English edition.

The book is of special significance since it can offer reference to Pakistan in eliminating its current development roadblocks, said Zaki, who is also the former Pakistani Minister of State for Foreign Affairs.

Pakistani residents should deepen their understanding of China, and the book will play a key role in this process, he added.

Farrukh Sohail Goindi, founder and managing director of the Jamhoori Publications in charge of the Urdu version's translation, told the People's Daily that the ideas of Chinese president, a wise leader in today's world, is a valuable reference for Pakistan's social and economic development, as well as economic growth of the region and the world at large.

The book is helpful not only to the Pakistani public, but also to the people around the world who pursue better state governance, said Goindi, who reads the book eight to nine times in different periods in different stages.

"Xi Jinping: The Governance of China" contains 79 speeches, talks, interviews, notes and letters of the Chinese leader between November 2012 and June 2014. To date, it has been translated into 16 languages and has a distribution of more than 6.2 million copies around the world.