By Zhang Yuannan from People's Daily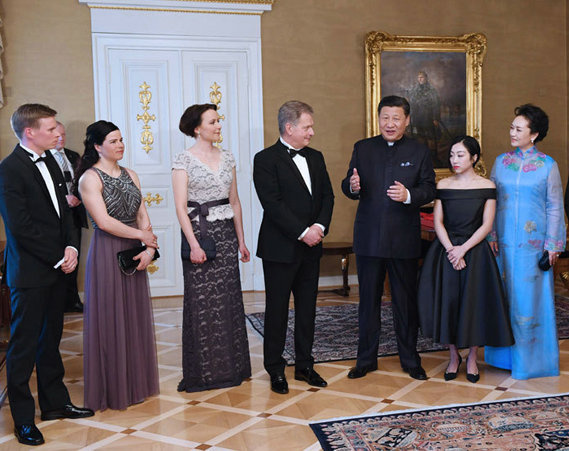 Chinese President Xi Jinping's upcoming state visit to Finland is of global significance as it has already gone beyond bilateral range, a Chinese expert said before Xi kicks off his three-day trip on Tuesday.
The forthcoming trip will be Xi's first visit to a Northern European country as a head of state, as well as his first tour to an EU member this year.

Enjoying a traditional friendship with China, Finland was among the earliest Western countries to establish diplomatic ties with China, and also the first Western nation that inked an inter-governmental trade agreement with China.

Thanks to the sound momentum of bilateral relations in recent years, it is expected that a number of new highlights will be generated from this visit, also the first one by a Chinese president to Finland in 22 years.

Wang Yiwei, director of the Center for EU Studies at Renmin University of China, said that as the only eurozone member in Northern Europe, Finland was the biggest victim of European debt crisis in the region.

In light of the current rising tide of de-globalization as well as bottlenecks laying ahead European integration, Finland hopes to propel free trade and economic globalization together with China, he added.

"A friend in need is a friend indeed. Europe needs more support from China and gives it more weight when the European integration process is hampered by headwinds," the expert pointed out.

China's supports to European integration and devotion to economic globalization together with Europe, which have transcended bilateral scope, serve as a model for global governance and international multilateralism, Wang said.

He believed that Xi's upcoming visit will definitely elevate China-Finland relationship, deepen cooperation between China and Northern Europe and contribute to four major China-EU partnerships featuring peace, growth, reform and civilization.

Finland, located along Baltic Sea and Arctic region, also works as a belt linking the "Belt and Road" routes with the Eurasian continent. The "16+1 cooperation" between China and the Central and Eastern European countries can stretch to this nation as well.

Some Finnish scholars regarded the adventure of Carl Gustaf Mannerheim, a Finnish statesman and explorer also known as "Marshal of Finland", in Xinjiang Uyghur Autonomous Region as a preface to concerted efforts of both nations in "Belt and Road" construction, Wang pointed, adding that his equestrian statue in Helsinki depicts Finland's bond with the route.