Source: People's Daily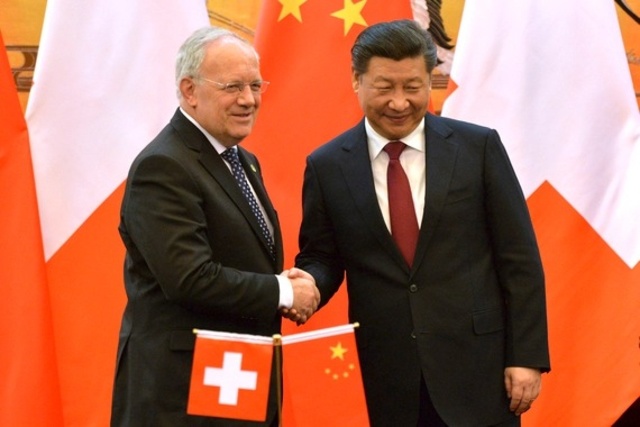 Chinese President Xi Jinping's upcoming Swiss visit will present a confident, open, responsible and positive Chinese voice to the world, Ma Zhaoxu, China's Permanent Representative to the United Nations Office at Geneva (UNOG) and Other International Organizations in Switzerland, wrote in a signed article published on People's Daily on Friday.

During Xi's three-day visit at the beginning of 2017, he is scheduled to attend the World Economic Forum Annual Meeting to be held in Davos which is themed "Responsive and Responsible Leadership". He will also visit the Geneva-based headquarters of the United Nations, World Health Organization and International Olympic Committee.

Xi's visit will showcase China's progressive diplomatic image, and contribute Chinese wisdom and solutions for world's long-term stability, sustainable development and common prosperity.

The international order and pattern are experiencing profound changes as a result of the slow recovery of world economy, rapid development of anti-globalization, intensive geopolitics and rising terrorism, Ma said, adding that a series of black swan events have astonished the globe.

The world has lost its direction in a lack of efficient leadership and governance as a result. Amid such backdrop, the international community is now in desperate need of a solution, the diplomat said.

He further said that faced with the complex and changing world's arena, China has injected more confidence and played a bigger role in global governance under the leadership of the CPC Central Committee with Xi as the core.

Ma noted that China not only advocates the establishment of a community of common destiny for all mankind, but also makes efforts for a new model of international relations centered on win-win cooperation.

Xi expounded the idea of the community of common destiny for all mankind while attending the summits marking the 70th anniversary of the founding of the UN in 2015, the ambassador illustrated.

Xi's ideas stemmed from the profound wisdom of Chinese culture, which are also in accordance with Chinese diplomatic traditions such as the Five Principles of Peaceful Coexistence, Ma pointed out, adding that Xi's proposals not only keep abreast with the progress of human society, but also meet global aspiration for peace, development and cooperation.

The concept of community of common destiny for all mankind will expand its influence with China's in-depth participation in global governance, he added.

China is also taking a lead in world economy and global governance, Ma noted. The success of G20 Hangzhou Summit has offered China's remedy to the root causes of the sluggish world economy and charted a course for global governance.

Faced with global challenges like de-globalization, protectionism and fragmentation of regional cooperation, Xi put forward the idea of a more inclusive economic globalization during the APEC meeting held in Lima, he added in the article.

These proposals have all played a positive role in increasing global confidence and consensus, Ma concluded.

The diplomat stressed that China has been making efforts to benefit its people and the people around the world as well. The country, for instance, has taken a lead to implement the 2030 Agenda for Sustainable Development, and also align China's development concepts and 13th Five-Year Plan with international agendas, he explained.

Ma added that China has placed high attention on the undertakings of public health, fought against AIDS and tuberculosis, and contributed to world peace and development by rendering strong support to Olympics.

The gradual connection between China's "Belt and Road" initiative and strategies of the countries along the route has linked Chinese dream with the dream of the world.

Following the principle of achieving shared growth through discussion and collaboration, China will inject new power and hope to the economic development of Eurasian continent, and even the world at large, Ma concluded at last.