Source: People's Daily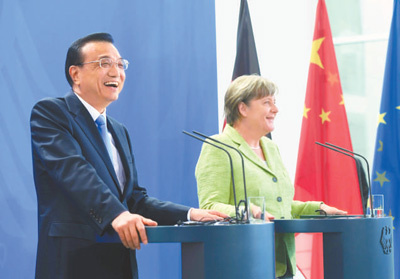 Chinese President Xi Jinping's upcoming state visit to Germany is destined to renew the connotation of the all-round strategic partnership between the two countries and inject new impetus to bilateral relations, said Chinese Ambassador to Germany Shi Mingde in a signed article published on People's Daily on Monday.

During Xi's visit to Germany, he is also scheduled to attend the G20 summit in Hamburg.

Over the decades since China and Germany established diplomatic relations 45 years ago, the two countries have deepened cooperation, and cemented bilateral ties despite of differences in systems, cultures and development levels, Shi wrote, adding that they have built their ties into a pioneer of China-Europe relations.

The best-ever relationship between the two countries now can be evident by their profound political mutual trust, extensive economic and trade cooperation, as well as increasingly closer cultural exchanges.

Xi has visited Germany twice as the Chinese President, and German Chancellor Angela Merkel has visited China 10 times, being the Western country's leader who has visited China for the most times.

In addition, nearly 80 dialogue mechanisms have been established between the two countries in various fields.

What's more, China has become Germany's largest trading partner in 2016, and the value of trade between the two countries accounted for nearly one third of that between China and the EU. Germany is also the largest European investor and technology exporter of China.

In terms of the cultural exchanges, a total of more than 40,000 Chinese students are studying in Germany, and 8,200 German students are pursuing further education in China. The number of people travelling between the two countries has surpassed 2 million.

But 45 years ago, there were only three German students studying in China and 10 Chinese students in Germany, and the number of people travelling between the two countries was less than 1,000.

China-Germany relations were ushered into a new chapter after Xi and Merkel decided to upgrade bilateral ties to all-round strategic partnership in 2014, the article said.

The two sides have established new partnership, held the first innovation cooperation conferences, launched the Sino-German Youth Exchange Year, and signed the first inter-governmental agreement of football cooperation.

Based on the docking of the strategies of "Made in China 2025" and "Industry 4.0", and the early achievements of the third-party cooperation, practical cooperation between China and Germany not only enjoys win-win results, but will also embrace higher level and broader aspects with a more prosperous future.

China and Germany, with more shared interests, serve as a stabilizer and positive energy against the chaotic world filled with uncertainties and concerns brought by ever-changing international situation, rising trend of anti-globalization and protectionism, as well as reemergence of unilateralism.

The two countries, according to Shi, will focus on follow-ups of the G20 Hangzhou Summit, coordinate positions and support each other on major international, financial and economic agendas.

They will also work with the international community to promote globalization, accelerate liberalization and facilitation of investment and trade, protect multi-lateral mechanisms, and oppose any kind of protectionism including unilateralism.