By Yang Sheng Source: People's Daily and Global Times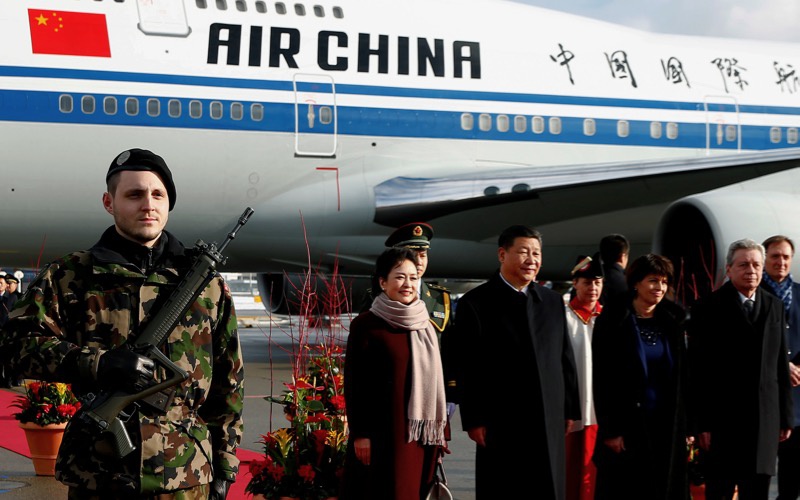 Chinese President Xi Jinping, as the first head of state of China to attend Davos economic forum, will discuss the latest developments in the Chinese economy and introduce a more inclusive plan on globalization during the forum.

Xi will attend the 47th World Economic Forum (WEF) annual meeting in Davos, Switzerland on January 17. It will be the first time a Chinese president will attend the summit, an influential political and economic gathering. Several Chinese premiers have attended the forum since 1992.

Xi's presence in Davos shows China's strong and firm support to economic globalization, Jin Canrong, associate dean of the Department of International Studies at the Renmin University of China, told the Global Times. "It delivers a message to WEF that China treats WEF as a very influential and important platform for international economic affairs," Jin said.

Most countries can't survive without globalization, so when the biggest economy has an anti-globalization president-elect, the world will surely turn their eyes to China, the second largest economy, Jin said.

"China opposes trade protectionism, and supports solutions to trade disputes with an open and inclusive attitude and a reciprocal spirit," said China's Vice Foreign Minister Li Baodong at an earlier press briefing.

The president will help all parties have in-depth understanding of China's economic situation and prospects, as well as China's experience and views on economic development, Li said.

Li added that China expects Xi's Davos trip to identify the deeper causes of sluggish world economic growth and find a solution, as well as reinforce confidence in global economic development.

Xi will deliver a speech at the opening ceremony of WEF, and hold discussions with WEF founder and executive chairman Klaus Schwab and guests from business, media and the academe.

At last year's APEC Economic Leaders' Meeting in Peru, Xi already delivered a strong message in support of free trade and globalization when US president-elect Donald Trump announced he would scrap the Trans-Pacific Partnership Agreement (TPP).

"So after the world heard China's message, the international community expects China to introduce a more detailed plan in support of free trade and globalization, especially as protectionism and an anti-globalization gains support in the West, Jin said.

Xi's mission in Davos is to "reduce uncertainties" by injecting confidence and solidarity into the international business community, Chen Xulong, an expert at the China Institute of International Studies, said.

WEF is a symbol of economic globalization, but the recent globalization guided by neo-liberalism and Western norms has encountered serious problems and challenges, even in the most developed parts of the West, like the US and Europe, Wang Yiwei, director of the Center for International Studies at Renmin University of China.

"In 2017, Europe will face many important events, such as France's presidential election and Germany's general election, and the anti-globalization group's power is rising among key EU states," Wang said. Xi will also express his gratitude to Switzerland and bring confidence and encouragement to the European countries.

Talks with Trump advisers

Xi will hold his first state visit to Switzerland from January 15 to 18, at the invitation of the country's Federal Council. While there, he will hold talks with Swiss Confederation President Doris Leuthard. The two heads of state will witness the signing of several cooperation deals covering politics, free trade, culture, customs, energy and sports, according to Li.

Switzerland was the first European country to sign a Free Trade Agreement with China and to recognize China's market economy status.

President Xi will also go to Geneva and Lausanne, where he will visit the United Nations office in Geneva, the World Health Organization (WHO) headquarters, and the International Olympic Committee headquarters.

Li said Xi will deliver a speech on establishing a "community of shared destiny" at the Palace of Nations and meet UN Secretary-General Antonio Guterres, their first meeting since the latter took office on January 1.

With regard to whether Xi will meet with the US delegation on the sidelines of the summit, Li said the Chinese side maintains a smooth communication channel with Trump's team and does not rule out the possibility, according to Xinhua News Agency.

"The Chinese side is willing to contact various parties to arrange some meetings, as long as there is willingness and a convenient time," Li said.