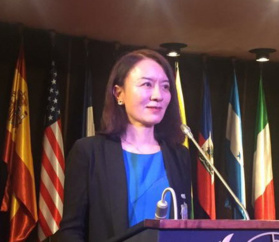 People's Daily

The first China-Latin America Media Leaders Summit opened in Santiago, Chile, coinciding with Chinese President Xi Jinping's State visit to the South American country.

Lu Xinning, a deputy editor-in-chief of the People's Daily, also delivered a speech with the theme, "Expand Mutual Understanding Through Communication and Cooperation," at the summit.
Here is the full text of her speech:

What draws China and Latin America closer?

Bathed in the summer sunshine in the Southern Hemisphere, we gather here today to attend the first China-Latin America Media Leaders Summit with the theme, "Media Organizations Working Together for Better China-Latin America Cooperation" to discuss friendship, share ideas and plan for the future. We are here to contribute our thoughts and make friends. It is of pioneering significance.
Chile is said to be the farthest country from China. We took almost 30 hours to arrive in Chile. On the way here, there was a question that puzzled me the most: what draws China and Latin America closer to build a future despite the fact that the two sides are divided by the vast Pacific Ocean? I can sense that the answer lies in our common pursuit and strong desire for communication, which resonates with the sentence that President Xi Jinping often quotes: "mountains and seas do not distance people with common aspirations."

Bilateral communication beckons more platforms

I have been crazy over Latin American literature since I was in college 3 decades ago. I still remember the admiration when I came across Latin American literature for the first time. Gabriel Garcia Marquez built the Macondo town with his imagination, Juan Rulfo depicted the mysterious man Pedro Páramo, the important writer Jorge Luis Borges created a magnificent artistic world, and Pablo Neruda wrote down emotional poetry… All of these have always made me learn more about the ancient and exuberant Latin American civilization.
Literature brings people closer to each other, while the historic progress after World War Ⅱ, especially the change in the international landscape in the new age, encouraged both sides to embark on a cooperation course in choosing a development path, national rejuvenation and other top-level agenda. Over the past few decades, China and Latin America share similar feelings towards the direct or indirect interruptions from the Western world. It is without a doubt that justice and fairness have not been achieved in the current international relationships. Under such a context, China and Latin America are in great need of mutual support to pursue our own dreams and find a suitable development path.

Bilateral ties upgraded to development partnership
Today, China-Latin America cooperation has brought practical benefits to our daily lives in all aspects. Some observers pointed out that the China-Latin America relationship has achieved "triple boosts" by transiting from a buyer-seller relationship to investment partners, then to development partners. Amid the momentum to increase bilateral cooperation, we need to increase mutual recognition and understanding based on the already existing political, economic, personnel and cultural relationships, where media should be in place to assist.
My employer, the People's Daily, is an official newspaper of the Communist Party of China. As a media group with an almost 7 decade-long history, the People's Daily not only provides the most influential newspaper in China, but also offers more than 10 media platforms such as magazines, websites, television, broadcast, electronic screen, SMS news and phone app. The market value of People's Daily Online, successfully listed in 2012, has surpassed that of the New York Times. The number of accumulated downloads of the People's Daily app on the phone has exceeded 148 million. As one of China's biggest omnimedia, the People's Daily has over 350 million users at home, covering almost one quarter of the population. In an era of media and communications, I believe that the information flow and voices of media exert more influence than ever over state-to-state relations and people's welfare.

Talent should be added to build exchange platforms
In order to enhance exchanges between Chinese and Latin American media, I propose the two sides cooperate in the following fields:
First, an exchange mechanism should be built to replenish the talent pool serving China-Latin America cooperation in media. At present, the biggest obstacle to bilateral media cooperation is language. Only a few Chinese media can "produce" news in Spanish and Portuguese, but most of the content is translated. Moreover, the reporters and editors familiar with conditions in Latin America are not enough. The same is true in Latin America, where few media professionals there can speak Chinese and know about the situation in China.
Patricia Castro, a Peruvian scholar who lived in China for 12 years, pointed out that"the best way to know a country is to go there. It is hard to let others listen to the voice of China, but as long as we start to communicate, then we are already on the path of mutual understanding."In order to enhance mutual understanding, the People's Daily and other Chinese media can send their staff who speak Spanish and Portuguese to Latin America for training. At the same time, Latin American media can send their reporters to China to learn more about China through local Confucius Institutes.
We can encourage more bilingual talent who speak Spanish, Portuguese and Chinese to provide translation services for media, enterprises and governmental organizations of both sides based on a translation crowd-sourcing platform built by Global Times, thus overcoming the language barriers and bridging the communication and exchanges. We hope such platforms would increase in a bid to seize every communication opportunity.

Cooperate with think-tanks to increase exchange mechanisms
Second, we should pursue deeper recognition and understanding by cooperating with each other's think tanks. The Latin America Center of the People's Daily has cemented its relationship with the Foundation of Getulio Vargas (FGV), the biggest think-tank in Brazil. A prompt communication mechanism with relevant scholars on topics related to China-Brazil cooperation was set up as a result. The People's Daily also invited the scholars of FGV to the Forum on "Belt and Road" Media Cooperation in Beijing. Yang Zhenwu, People's Daily editor-in-chief, visited Argentina and Brazil last year, during which he met with local media, spoke at the FGV, introduced China's economic new normal and answered questions raised by local scholars and media representatives. Similar events should be held more frequently. In fact, we could and should apply such an exchange mechanism in bilateral exchanges to other Latin American countries, even replicate it at Latin America research institutes in China. The People's Daily is willing to establish a platform for more discussions in order to enhance mutual understanding.
Bolstering content cooperation
Third, we should provide readers with more news products by increasing our content cooperation. Currently, a considerable part of the Chinese reports on Latin America are cited from Western media, and the situation in Latin America is similar. There are only eight reporters from five Latin American media in China. Though Chinese media have stepped up their efforts in covering Latin American events, counterparts in Latin America haven't given enough focus to or used enough Chinese mainstream reports. Instead, they tend to use the Associated Press and EFE.
I want to let all my colleagues know that the People's Daily is China's biggest omnimedia group and the most important news content producer. We have been providing customized news services for foreign media and offer them with China-related news based on demand. Some media from Latin America and other part of the world have shown their interest in this service. We welcome more Latin American media to try our service and your suggestions and advice are most appreciated. We invite all of you to read the sufficient China-related news provided by the Spanish and Portuguese channels on People's Daily Online. The website can establish a news exchange mechanism with major online media in Latin America in the future. Meanwhile, we are considering quality reports written by our Latin American counterparts on our platform, so as to give the two peoples a window to know the real China and Latin America through content cooperation.
Dear colleagues,
There is an old saying in China, "To know is to understand and sympathize." This era has given the media a mission to bring closer ties between China and Latin America. In July 2014, Chinese President Xi Jinping brought up the idea that the Chinese dream and Latin American dream are the same dream before attending the first China-Latin America and the Caribbean summit. During President Xi's second visit to Latin America this time around, he explained the importance of building a China-Latin America community of common destiny. The people of the two sides have been bravely pursuing and realizing the dreams based on their ancient civilizations. These practical actions are the extraordinary stories we should record and tell. I hope all media professionals would strive hard to tell more impressive stories about China-Latin America cooperation.
Thank you!