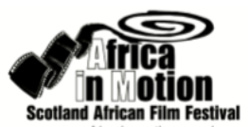 Africa in Motion (AiM) Film Festival is delighted to announce their upcoming touring film festival, 'Sports Stories from around the African Commonwealth', with film screenings and events taking place across Scotland in the lead up to the Glasgow 2014 Commonwealth Games.
As part of the Glasgow 2014 Cultural Programme, the festival will travel to Glasgow, Edinburgh, Dundee, Inverness, Isle of Skye, Cromarty, Dumfries, Oban, Coll and Dunoon between 1 June and 28 July 2014.
The programme includes 30 films from the African Commonwealth and beyond, allowing Scotland Commonwealth spectators to watch boxing in Ghana, cycling in Rwanda, long-distance running in Kenya, surfing in South Africa, football in Nigeria and much more. Film highlights include Rising From Ashes, a documentary following the journey of a group of struggling genocide survivors in Rwanda pursuing their dream of a national cycling team; The Athlete, a feature film about Ethiopian long-distance running legend Abebe Bikila, who achieved Gold in the 1960 Rome Olympic Games; and Streetball, a documentary that looks behind the scenes of the euphoria during the 2010 World Cup in South Africa to tell the story of South Africa's Homeless World Cup team.
Screenings are taking place in innovative venues and contexts, including a series of African adventure films at the Glasgow Climbing Academy; a Film and Food Marathon at the Rennie Mackintosh designed House for an Art Lover in Glasgow, where three films from three different African countries will each be accompanied by a course representing that country; and a screening at Britannia Panopticon in Glasgow where the quintessentially British backdrop will be merged with a taste of Africa and the Caribbean through screenings and discussions exploring the legacy of slavery and the British Empire. Other highlights include bike-powered screenings at the Riverside Museum in Glasgow in collaboration with Take One Action Film Festival, and a screening at Glasgow Film Theatre of a documentary about a Tanzanian women's football team, co-hosted by Glasgow City Ladies Football Club.
Screenings are set to take place in cinemas as well as outside of traditional screening venues through a pop-up cinema initiative, the AiM Shebeen Screen. In South Africa, 'shebeen' describes an informal drinking place in a township, and in Scotland it also refers to an unlicensed bar or pub. The AiM Shebeen Screen will replicate the way Africans watch films through an African-decorated mobile cinema. The AiM Shebeen Screen will travel to Dundee, Isle of Skye, Cromarty, Inverness, Coll and Dunoon, in addition to pop-up screenings in Glasgow and Edinburgh.
Most screenings are free of charge, or tickets can be purchased through the box office of participating cinemas.
Festival Project Manager, Justine Atkinson, says of the tour: ''Sports Stories from around the African Commonwealth will explore African sports and culture through film. We believe our programme will increase the diversity of content brought to the 2014 Glasgow Commonwealth Games, and will help to contribute to a progressive inter-cultural dialogue through African films on sports. The tour will involve a wide variety of people from across Scotland, the UK and the wider African diaspora and will strive to open up new audiences to the Games''.