By Liu Xin, Source: Global Times, People's Daily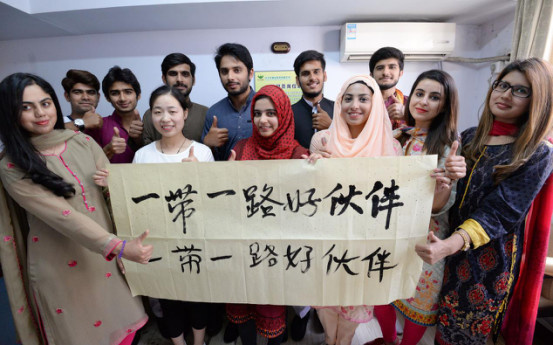 From 2015 to now, a total of 114 students from Pakistan, an important country along the Belt and Road, have come to Hebei Engineering University for studies. To know more and better Chinese culture, they practice in spare time Tai Chi, table tennis, Chinese chess and calligraphy together with their Chinese classmates. In the picture, Chinese and Pakistan students are showing their calligraphy work Good friends along the Belt and Road. Photo by Shi Ziqiang from People's Daily
Scholars and guests at the Belt and Road Forum of International Cooperation on Sunday hailed the Belt and Road initiative, expressing hopes that the initiative would provide greater opportunities for ordinary people.

Muhammad Shehbaz Sharif, chief minister of Punjab, Pakistan said that it is very courageous for Chinese President Xi Jinping to propose the Belt and Road initiative, which stresses cooperation instead of competition.

The initiative is not only for the elites but also aims to create opportunities for ordinary people to earn a decent living. The initiative encourages respect for other countries' sovereignty and non-interference, Sharif said.

He said that China has invested roughly $50 billion in Pakistan's infrastructure, energy and manpower, as well as in sports and the training of athletes.

Khalid Rahman, director general of the Institute of Policy Studies in Islamabad, told the Global Times that Xi's speech focused on cooperation and shared benefits, given the financial vacuum the world currently faces.

He also noted that the bilateral projects between China and Pakistan under the initiative have set an example to other countries - it shows them how they can build ties under the initiative from the ground.

Professor Alberto Di Minin from Italy told the Global Times that under the initiative, China has a great role to play in the international community.

China should promote talent exchanges, which can enhance mutual trust and help the outside world understand its policies, he said.

Hongdou Group chairman Zhou Haijiang said that he was thrilled with Xi's speech and was also proud to see so many leaders and experts at the forum.

"We entrepreneurs are now more confident. This affirms the initiative after five years of development. Many countries were skeptical and held a wait-and-see attitude toward the initiative, but now they applaud it," Zhou said.

Zhou said that his company, which participated in the construction of the Sihanoukville Autonomous Port in southwestern Cambodia's Preah Sihanouk province, also contributed to enhancing communication with local residents, including the creation of 16,000 jobs, the building of schools and financial help for poor residents and students.

"What we are doing in the region is a response to Xi's call to enhance exchanges with the people," Zhou said.

Zhou also said that Chinese entrepreneurs should seize the opportunities of the initiative.