By Liu Jianxi , Source: Global Times, People's Daily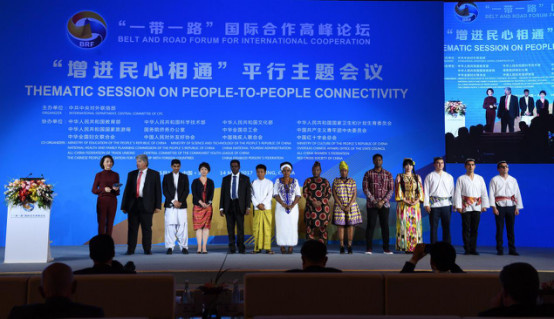 On May 14, the BRF is holding in Beijing six parallel thematic meetings, one of them eyes on the people-to-people connectivity. Photo by Xinhua
Sunday saw the start of the first-ever Belt and Road Forum for International Cooperation. Washington sent a delegation led by White House adviser Matthew Pottinger to the summit, a sharp contrast from its previous attitude to Beijing's infrastructure-building proposals. Washington "recognizes the importance" of the Belt and Road initiative, according to the US Commerce Department.

More US scholars are attaching increasing importance to the Belt and Road initiative. Parag Khanna, a former advisor to the US government and now a senior research fellow at the National University of Singapore, equated the significance of infrastructure to that of national security, and said that connectivity was an indicator of a country's influence in a speech.

American academia has also started to explore the Belt and Road initiative. The University of California Berkeley set up the first institutionalized center dedicated to the study of the history of the Silk Road in April, and a number of seminars on the Belt and Road initiative have been launched in US universities and research institutes.

The US has realized that with an increasing number of countries participating in the Belt and Road initiative, its right to set the rules on the global economic arena may gradually be weakened if it misses Belt and Road-related opportunities. While US President Donald Trump advocates an America First doctrine, striving to revive the US economy, Beijing's Belt and Road initiative honors extensive consultation, joint contribution and shared benefits, and is a high-powered engine for global economic growth. Joining Beijing's initiative is an effective way for the US to seize more economic opportunities, thus paving the way for its America First strategy.

In the meantime, Washington's role in promoting the Belt and Road initiative cannot be underestimated. Although countries along the route are largely supportive of the initiative, the Belt and Road faces a number of religious, security and geopolitical challenges in implementation.

As a leading Western power, Washington's participation in the Belt and Road initiative will have knock-on effects, encouraging its allies to see the initiative from a more rational and objective perspective, and thus help win Beijing and its infrastructure projects more international understanding and influence.

Beijing-Washington cooperation on the Belt and Road initiative is highly likely to be the most significant basis for global peace in the 21st century. As the two biggest economies, China and the US should collaborate for mutual benefits, which is of vital importance for global prosperity and stability.