By Xie Yahong from People's Daily, Deng Jie from People's Daily Online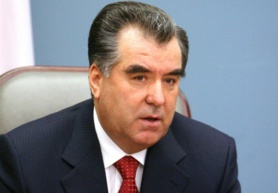 "The 'BRICS Plus' model China is actively exploring, which advocates dialogue between emerging markets and developing countries, should be strongly supported," Tajik President Emomali Rahmon said in an interview with People's Daily before the 9th BRICS Xiamen Summit and the Dialogue of Emerging Market and Developing Countries.

"I believe the summit and the dialogue are of special significance to promote solidarity and cooperation among the BRICS countries as they will be effective platforms to encourage mutually beneficial and constructive cooperation," Rahmon noted.

They will also facilitate the peaceful, safe and steady economic and social progress of participating countries amid new challenges brought by globalization, the president stressed his expectations toward the dialogue.

In Rahmon's eyes, his attendance of the summit will bring benefit to Tajikistan's national welfare and the people's livelihood because the BRICS countries are at the stage of sustained economic development and have rich natural resources.

"The platforms like BRICS mechanism will bring about a broad range of development opportunities," Rahmon said, illustrating that it will help cement China-Tajikistan mutually beneficial cooperation, expand trade and investment, guarantee stable development and bring benefit to the two peoples.

Additionally, the China-Tajikistan cooperation under the BRICS framework will propel the two countries to implement some cooperation plans and projects, he added.

Chinese President Xi Jinping and Rahmon, during their talks on August 31, agreed to establish comprehensive strategic partnership between the two countries to push the China-Tajikistan cooperation to a new historical point.

Describing the mutual political trust and mutually beneficial cooperation between China and Tajikistan as an unprecedented level, Rahmon said the talks with Xi have deepened bilateral relationship and expanded partnership in finance, agriculture, water resources, energy, science park and transportation connectivity, among other fields.

Tajikistan is an active supporter of the Belt and Road Initiative since its proposal, and the country is among the first nations to sign a memorandum of understanding on construction of the Silk Road Economic Belt with China and eye the launch of a cooperation committee, Rahmon noted.

In the future, Tajikistan will further synergize the Belt and Road Initiative with Tajikistan's national development strategy for the period up to 2030, he added. "The cooperation will without question facilitate interconnectivity and mutual prosperity between the two countries."

"Currently, we are working with other international partners over the feasibility of a batch of regional infrastructure construction in a bid to speed up construction of highways and other transportation facilities to modern standards. Tajikistan will become a bridge to connect China and other countries," Rahmon said.