By Liu Junguo, Zhou Hanbo and Xie Yahong from People's Daily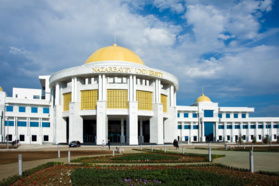 The China-proposed "Belt and Road" initiative is a great blueprint since it incorporates several billion of population under the same framework of win-win development, Shigeo Katsu, president of Nazarbayev University, told the People's Daily in a recent interview.

The scholar made the remarks just before Chinese President Xi Jinping kicked off his state visit to Kazakhstan on Wednesday.

President Xi delivered a speech in the university, proposing to jointly build a Silk Road Economic Belt on September 7, 2013. The Belt and Road construction officially started hereafter.

Katsu, who was also former vice-president of World Bank in charge of European and Central Asian economic affairs, has a deep understanding of global and regional economic development.

He believed the China-proposed Belt and Road initiative is of great significance for global trade liberalization and economic globalization, especially against the uprising tide of protectionism.

As a Japanese working in Kazakhstan, Katsu has witnessed the changes brought by the Belt and Road construction on the country over the last three years. He said that the proposal has provided tangible benefits for the country located in the hinderland of the Eurasian continent.
"Kazakhstan has benefited in terms of both transportation and talent attraction," Katsu said, adding that China's increasing direct investment injects new energy to Kazakhstan's economic growth.
"I'm looking forward to China's bigger role in the international community," the president said. The world is facing various challenges including climate change, which calls for joint efforts rather than independent actions, he furthered.
Katsu noted that Xi's calls to build the community of common destiny for all mankind in his speech delivered at the UN headquarter in Geneva in January is encouraging as it reveals China's sense of responsibility as a major country.
Katsu, also an economist, is optimistic on China's economic development, saying that China has already made progress in its transformation from export-oriented economic growth model to one that is driven by domestic demand. "China's economy is developing on the right track," he added.