By Ren Yan from People's Daily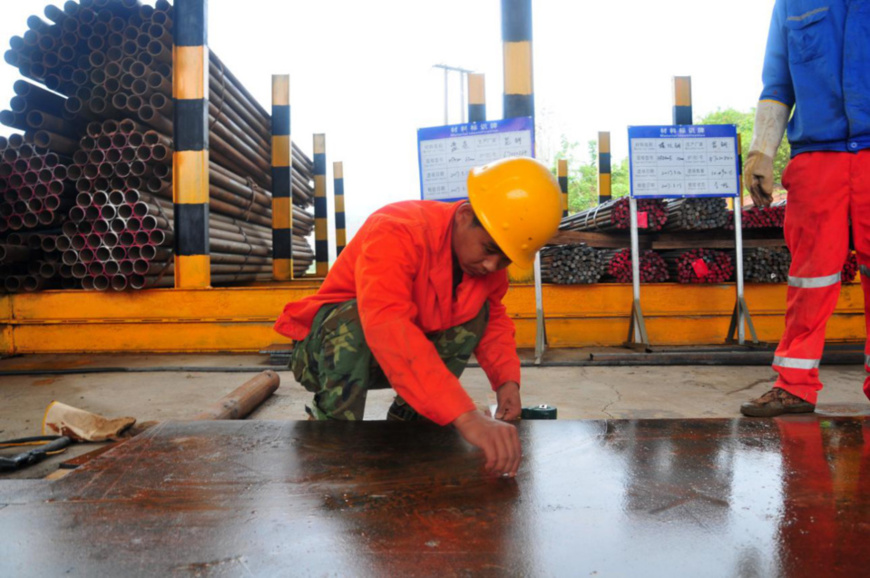 On April 13, 2017, a worker is processing steel at the construction site in the mountainous area of northern Laos' city of Muang Xay, where a tunnel of China-Laos railway project undertaken by China Railway International Group locates. China-Laos railway is the first overseas rail project mainly invested by China, co-operated by both sides and connected to Chinese railway network. The railway applied both Chinese specifications and equipment. (Photo by Xinhua News Agency)
The far-sighted Belt and Road initiative has made unique contribution to international cooperation and economic growth through a series of innovative approaches, Klaus Schwab, founder and executive chairman of the World Economic Forum (WEF) told the People's Daily, stressing that it will usher the world into a new chapter of prosperity and development.

Schwab, who is now in Beijing for the ongoing Belt and Road Forum for International Cooperation, said that the forum will reexamine the historical significance of the Silk Road which once connected trade and communication between Europe and Asia after it experienced 2,000 years of rises and falls.

"We will, guided by the forum themed 'Strengthening International Cooperation and Co-building the Belt and Road for Win-win Development', brace for a historic chapter of prosperity and development," the founder said.

With an aim to build an inclusive platform, the Belt and Road initiative serves as a shining model for regional collaboration, development and growth, Schwab said.

Bearing a respect to the differences between countries and their various paths for development, the initiative does not impose a specific plan or ideological framework, but seeks to create common ground for mutually beneficial cooperation, he elaborated.

The Belt and Road initiative should be the locomotive that leads the global economy towards a more prosperous, inclusive future, Schwab pointed out.

He pledged the utmost support of the WEF as a platform to the success of the Belt and Road initiative, saying they will promote the alignment and development of the initiative in all of their important regional campaigns.

The Belt and Road initiative, since firstly put forward, has not only improved inter-connectivity of the participating countries, but also enhanced people-to-people exchanges, the chairman hailed the remarkable accomplishments scored so far.

Flagship projects such as Indonesian high speed rail between Jakarta and Bandung, and the rail between Kunming, China and Vientiane, Laos have all left a deep impression on him.

According to him, half of the foreign students studying in China come from the Belt and Road countries. People-to-people cooperation has achieved prominent results as well, indicating a prosperous future.

"Let us take advantage of this opportunity to promote this initiative," Schwab said, adding that connectivity is not only a major trend of the current world, but also a key driver of future economy.

"I understand that there is a Chinese saying: Yào Xiǎng Fù Xiān Xiū Lù which means if you want to get rich, build a road. I would update this to say: if you seek prosperity, commit to connectivity," Schwab said.

"Let's make this initiative a core element of the vision for an integrated, open and collaborative world," he advocated at last.