By Wang Xiaodong, Zhang Niansheng, Du Shangze from People's Daily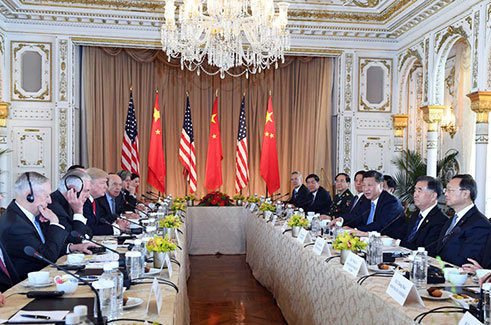 China and the US agreed to set up four high-level dialogue mechanisms covering diplomacy and security, economy, law enforcement and cyber security, as well as social and people-to-people exchanges, China's Foreign Minister Wang Yi said.

He made the statement when briefing the press on the outcomes from the meeting between Chinese President Xi Jinping and his US counterpart Donald Trump at Mar-a-Lago resort in Florida on Thursday and Friday.

Xi arrived in the Sunshine State of Florida for his meeting with Trump on Thursday upon the latter's invitation.

During the Xi-Trump meeting, both sides initiated the dialogue mechanisms in economy, as well as diplomacy and security, and discussed on the operation approaches and following work priorities.

They agreed to start the other two newly-installed mechanisms as early as possible, and launch discussions on possible dialogues in other fields and levels. Closer communication and cooperation between governmental departments will be encouraged as well, Wang said.

The foreign minister noted that both heads of state had an in-depth communication on economic and trade agendas, during which the Chinese side stressed its stance that China-US economic and trade ties are mutually beneficial in nature and both peoples have benefited a lot from such relationship. Both countries have now grown into the other's largest trade partner.

The two sides also stressed the importance of equal-footed and mutually beneficial solutions to the challenges laying ahead bilateral economic and trade relationship, Wang said, adding that they promised to bolster pragmatic cooperation in energy and infrastructure, open market wider to each other and seek a more balanced economic and trade relationship.

The top leaders also reached a consensus to deepen practical cooperation in trade and investment, and deal with trade frictions in a proper fashion, in order to yield reciprocal outcomes, the diplomat told the press.

In addition, China and the US pledged to strengthen military exchanges and deepen collaboration in law-enforcement, judiciary, cyber security, hunting for fugitives and the recovery of stolen assets, fight against illegal immigration, and heath care.

They also vowed more concrete measures to cement the social basis of bilateral relationship by beefing up cultural exchanges and personnel communication.

The Chinese side reiterated its propositions to persist in denuclearization on the Korean Peninsula, safeguard peace and stability on the peninsula, and resort to dialogues and consultations for the final settlement of the issue, Wang said, adding that China will continue its implementation of the resolutions adopted by the UN Security Council on the DPRK.

The foreign minister furthered that China also briefed the US on its "dual-track" and "double suspension" approach to defuse the looming crisis on the Korean Peninsula, in a hope to find a chance for resumption of talks.

China, during the dialogue between both heads of state, also repeated its opposition against Washington's decision to deploy the Terminal High Altitude Area Defense (THAAD) system on the ROK soil, Wang said.

Both sides confirmed their goals to denuclearize Korean Peninsula and agreed to maintain coordination in this topic, the minister stated, adding that they will cooperate more in nonproliferation, combat on cross-border crimes and other global challenges.