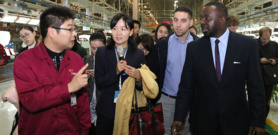 By Du Yifei from People's Daily

China will help train 500 media personnel from Latin American and Caribbean countries within the next five years, with an aim to achieve "common prosperity in the media industry," Chinese President Xi Jinping announced on Tuesday during his state visit to Chile.

Xi made the remarks when addressing the opening ceremony of the First China-Latin America Media Leaders Summit held at the headquarters of the United Nations Economic Commission for Latin America and the Caribbean in Santiago, Chile.

Previously, China has pledged to set up a media center for bilateral press exchange. Journalists from Latin American and the Caribbean nations will also be invited to study or work in China.