By Kou Jiangze, Shi Ziqiang, Qi Zhiming, People's Daily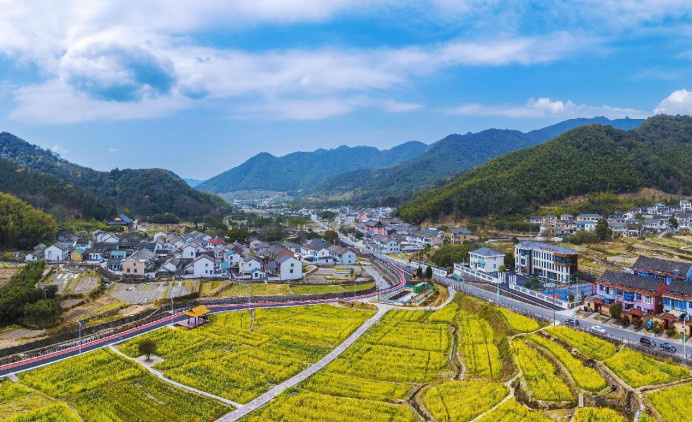 Photo taken on March 9, 2023 shows rapeseed flower fields and residential houses in Santang village, Dongwu township, Ningbo, east China's Zhejiang province. (Photo by Hu Xuejun/People's Daily Online)
China has made unprecedented efforts to advance ecological civilization over the past decade, ensuring stronger ecological conservation and environmental protection across the board, in all areas, and at all times.

As a result, the country has made a major step forward in promoting the Beautiful China Initiative, and its environmental protection endeavors have seen sweeping, historic, and transformative changes.

In 2022, the share of days with good air quality stood at 86.5 percent in Chinese cities at and above the prefecture-level, where black and smelly water bodies were basically eliminated. The country's forest coverage and wetland protection rates exceeded 24 percent and 50 percent, respectively, during the period.

The attractive data all reflect the improving ecological environment in China.

"A sound ecological environment is the most inclusive benefit to people's well-being," said Ma Xijun, deputy manager of a garbage collection center in Langfang, north China's Hebei province.
He said the efforts to prevent and control pollution over the recent years were obvious to all. According to him, all of the nine surface water sections under national and provincial monitoring in the city met Grade IV standard or above, which is mainly applicable to the water areas for industrial use and entertainment which is not directly touched by human bodies.

"The constantly improving ecological environment is making the sky bluer, the water more lucid and the mountains more lush," Ma told People's Daily.

"Taking ecological protection and green development as our priorities, we nurtured over 1,930 square kilometers of forests and made 270 square kilometers of manmade forests last year," said Yan Hongguang, chairman of China's Inner Mongolia Forest Industry Group.

Forest stock in Greater Hinggan Mountains in Inner Mongolia autonomous region is growing at 20 million cubic meters each year, and the annual increase of forest carbon sink reaches over 36 million tons, according to Yan.

The South China National Botanical Garden was officially inaugurated last July. With a total planned area of 319 hectares, the botanical garden is home to 643 species of rare and endangered plants, said Ren Hai, director of the South China Botanical Garden, adding that it has species of ex-situ conservation covering all plant types in south China.

Ren introduced that the botanical garden is actively launching science popularization activities to improve public awareness of biodiversity conservation.

Over the past decade, China's economic strength has greatly increased, and its comprehensive national power has embarked on a huge new step.

At the same time, its fast-developing green economy and upgrading industrial structure have brought major changes to the energy consumption structure, reaping remarkable economic and ecological benefits as a result. Green development has become a defining feature of China's high-quality development.

The construction industry is an important "battlefield" for emission reduction.

In recent years, China has vigorously promoted green buildings, accelerated energy-saving transformation of existing structures, advanced use of recycled building materials and constantly launched green campaigns in the construction industry, said Ni Haiqiong, president of Orient Sundar Group based in north China's Hebei province, adding that remarkable achievements have been made in this regard.

According to Ni, the group drives industrial transformation with technological innovation and has been expanding its investment in the research and development of ultra-low energy consumption products. A number of scientific research achievements have been made to promote the green transformation, Ni added.

Steadfastly developing non-fossil energy and promoting energy conservation, China has seen its annual energy consumption growth rate of 3 percent, which supported an average economic growth rate of 6.6 percent from 2012 to 2021, said Song Hailiang, the board chairman of State-owned China Energy Engineering Group Co Ltd.

He noted that China had over 1.05 billion kW of coal-fired power units that had achieved ultra-low emission status, and the share of clean energy consumption in the country has risen to 25 percent.

The corporation has gained world-leading capability in designing and constructing wind power, photovoltaic power and solar thermal power generations, he added.

The government work report this year stressed promoting the transition to a green development pattern. According to the work report, China will improve policies for green development, develop the circular economy, promote efficient and intensive use of resources, advance energy conservation and carbon reduction in key areas and continue working to keep its skies blue, waters clear and lands clean.

It is needed to advance protection and development in parallel in promoting the construction of ecological civilization, so as to foster green and low-carbon ways of work and life.

He Xiongbin from a new material company in Guixi, east China's Jiangxi province, said that China should strive for the carbon peak target in a well-planned way, promote low-carbon transition in the industry, construction, transport and other sectors, enhance the efficient and clean utilization of coals, accelerate the building of a new energy system and keep fostering new drivers for green growth.

Carbon fixation in forests is one of the major approaches to mitigating climate change. China should adhere to science-based greening plans and advance steps based on local conditions, said Qin Jianning, director of the forest ecology engineering quality management center of south China's Guangxi Zhuang autonomous region.

The country should follow a green development path that is science-based, eco-friendly and economical, and keep improving the quality and stability of its ecosystem, Qin added.