By Ouyang Jie, People's Daily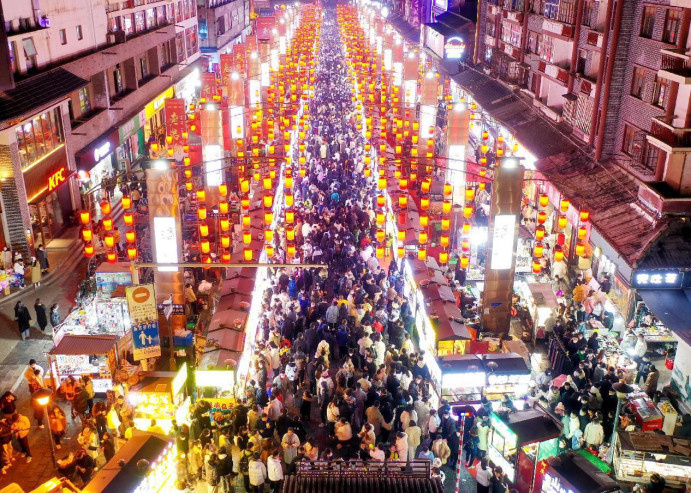 Tourists visit a traditional street in Luoyang, central China's Henan province, Dec. 31, 2022. (Photo by Zhang Yixi/People's Daily Online)
China's optimization of COVID-19 response measures is leading to a rebound in the catering industry.

Restaurants across the country have resumed dine-in services and are preparing for a peak period that may arrive with the upcoming Chinese New Year, which will fall on Jan. 22.

Sanlitun, a popular shopping area favored by young people in Beijing's Chaoyang district, is currently seeing a recovery in foot traffic, and that includes a restaurant of Haidilao, a leading hot pot restaurant chain in China, at Sanlitun SOHO, a shopping-residence-business complex.

"Today we will probably serve over 200 tables, and dozens of tables have already been booked at noon. Reservations just get frequent as the Chinese New Year approaches, which will keep us busier," said Xu Bin, manager of the hot pot restaurant.

Over the past year, the restaurant's business performance went through ups and downs. Fortunately, it is getting better these days.

The restaurant resumed operation on Dec. 7 last year after a short suspension of dine-in services. Its business remained gloomy in the first few days, but has turned better since Dec. 16.

Xu told People's Daily that the number of diners at night recently was sometimes as many as that before the breakout of COVID-19, which boosted the turnover of the restaurant.

"The foot traffic in other periods of time is also recovering, and it would increase 30 percent on weekends," Xu said.

According to Chinese internet giant Meituan, the dining industry has recovered across the country to different extents since Dec. 8, 2022, and foot traffic has kept growing.

For instance, the number of online reservations for dine-in services received by restaurants in Guangzhou, south China's Guangdong province since December has more than doubled from that in the previous stage.

Urumqi, northwest China's Xinjiang Uygur autonomous region, has seen a 413 percent weekly growth since Dec. 8 in the number of online reservations for dine-in services.

At noon on Dec. 18, 2022, couriers were seen entering and exiting a mini hot pot restaurant in Chengdu, southwest China's Sichuan province. Jiang Sanchun, owner of the restaurant, said over 150 delivery orders had flooded in.

This restaurant, which covers only some 60 square meters, is located in an alley of Chengdu's Jinjiang district. Its dine-in and delivery services are both recovering thanks to the optimized COVID-19 response measures recently announced by China.

"We serve 80 to 100 tables of dine-in customers per day, and delivery orders are growing fast that we receive more than 300 of them on a daily basis," Jiang said.

Jiang estimated that the business would recover faster, saying his restaurant was fully prepared.

His restaurant sits near to a business district, but its foot traffic was not stable in recent years. Therefore, the restaurant joined an online delivery platform to expand its service range and improve its digital operation. Now, over 60 percent of the restaurant's revenue comes from delivery service.

Many catering enterprises made innovations amid COVID-19, expanding their online sales channels and integrating online and offline services so as to recover their business.

"Through technological innovation and information sharing, delivery platforms are able to help catering enterprises enhance their capability in digitalization and improve their efficiency in digital operation," said an employee of Meituan.

According to the employee, Meituan has launched a special service that invites professionals in the food delivery sector to offer training and guidance for inexperienced small- and medium-sized restaurants.

As of mid-November last year, over 70,000 small- and medium-sized restaurants in China had gotten the service for free, and their monthly revenue had increased by nearly 30 percent each.

To help catering enterprises tide over difficulties, a series of policies were issued in China. In early 2022, the National Development and Reform Commission and other departments unveiled measures to guide online food delivery platforms to lower service charge and assist catering enterprises with insurance and loan renewal. In May, the State Council launched a package of policies that would give stronger support to catering and other sectors under pressure. In June, the Ministry of Commerce, together with other 10 departments, issued a notice requesting efforts to recover the catering industry in six aspects.

"Though we are still going to face challenges in the new year, the catering industry will accelerate its steps toward recovery with the optimization of COVID-19 response measures," said Yang Liu, secretary-general of the China Cuisine Association.