By Han Xin, People's Daily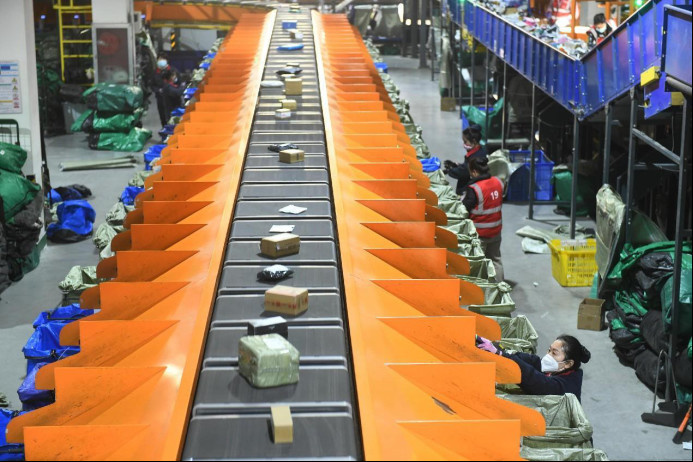 Workers work along an automated sorting line at an express delivery industrial park in Fuyang, east China's Anhui province. (Photo by Wang Biao/People's Daily Online)
Handling 10 billion parcels in 39 days and 50 billion in five months, China's courier industry has seen an average monthly increase of 10 billion in delivery volume since this year.

Despite the surging volume, the industry has pursued a green and low-carbon transformation, exploring a new development road that is resource-efficient and circular-friendly. Fast is no longer the only keyword used when describing the courier business in China.

A slew of measures have been taken, including building green warehouses to reduce energy consumption, developing green transport to curb pollution and speeding up express recycling to promote the circular economy, to advance green transformation.

In a 150,000-square-meter distribution center of Chinese express delivery firm Yunda Express in Liuyang, central China's Hunan province, trucks loaded with parcels were busy working on 34 unloading platforms at midnight.

Inside the automated sorting workshop, four sets of high-speed crossbelt sorters were running fast, where parcels from all over the world were affixed with exclusive tags and sent to reusable mail bags before they were transported to the next express delivery outlet.

"The fully-automated sorters can reduce labor costs by 70 percent, but it also makes the electricity consumption of the whole distribution center reach 35,000 kWh per day," said Guan Lin, head of Yunda Express' Changsha distribution center.

"Although electricity consumption has risen, the distribution center has become more environmentally friendly," Guan said, pointing to photovoltaic panels on the roof of the distribution center, which cover an area of nearly 50,000 square meters.

According to Guan, the clean electricity, generated by the panels and connected to the grid, not only ensures the power supply for the distribution center, but also saves energy for society.
Since it was put into use in October 2022, the photovoltaic power station had generated nearly 3 million kWh of electricity as of May 2023.

Just after dawn, Yan Yongjian, a truck driver from the Beijing branch of YTO Express, an express delivery firm in China, started his busy day at the company's distribution center in Beijing. He would make five round trips between the center and an express delivery outlet located near the China International Exhibition Center in Beijing's Chaoyang district, which is dozens of kilometers away.

In October 2022, Yan became one of the first drivers to use new energy logistics trucks deployed by YTO Express.

"A diesel-powered truck consumes 0.7 yuan (about $0.098) worth of oil per kilometer while a new energy truck consumes just 0.3 yuan, which is very cost-effective," said Yan.

In recent years, the State Post Bureau of China has actively promoted energy-saving and low-carbon transportation and equipment, introducing policies to support express delivery firms in purchasing and using new energy vehicles.

Currently, the country's courier industry has more than 65,000 new energy vehicles on the road.

At an express delivery outlet of China's ZTO Express in Linyi, east China's Shandong province, hundreds of blue bags were neatly arranged, each printed with a number.

According to Kong Gangling, head of the outlet, each bag has a built-in chip that serves as their "identity card," and the mail bags can be reused over a period of four to six months, which lower costs by more than 50 percent each time they are used.

At 5 p.m., the mail bags filled with parcels were transported to a logistics park which is 10 kilometers away, via a high-capacity trailer. There, the parcels would be sent to places across the country according to their "identity cards".

"The chips can collect real-time information on parcel delivery, making it possible to track the parcels during the transport process," said Cui Fukun, head of the transfer center of ZTO Express in Linyi.

Upon their arrival at the logistics park, tens of thousands of parcels from Kong's express delivery outlet were accurately sorted. After that, they were loaded onto trucks and transported to express delivery outlets in towns and villages.

In recent years, China's courier industry has solidly advanced green packaging, significantly increasing the recycling rate of packages. Today, electronic waybills and reusable mail bags have been fully used in China.

According to a sample survey of packages in China in May 2023, 90 percent of e-commerce parcels are no longer overpackaged, 380 million express mail and parcels use reusable packages, and 350 million corrugated boxes are in good condition to be recycled and reused.

Guan Aiguang, an official with the State Post Bureau, said this year, guidelines on the development and implementation of the green and low-carbon transformation of the courier industry will be released in a bid to strengthen the management of plastic pollution and overpackaging.

The courier sector will continue to carry out the pilot project of promoting green services at express delivery outlets and distribution centers and steadily improve the coverage of reusable packages, Guan added.