China's fight against poverty in full swing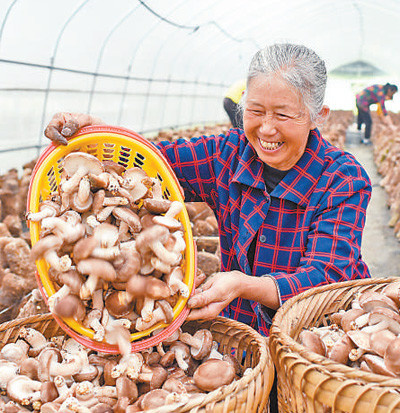 Farmers collect mushrooms under a targeted poverty alleviation project in Guanxing Township, Yuqing County, southwest China's Guizhou province. (Photo from CFP)
Forty counties have officially been removed from China's list of 125 impoverished counties in 20 central and western Chinese provinces, autonomous regions and municipalities, according to a recent announcement by China's poverty relief office.

The announcement from the State Council Leading Group Office of Poverty Alleviation and Development means that a total of 68 counties have been lifted out of poverty.

Over the past five years, China has made unprecedented achievements from its efforts to eliminate poverty. Its impoverished population in rural areas was reduced to 30.46 million in 2017 from 98.99 million in 2012, down by 68.53 million, or nearly 70 percent.

The poverty headcount ratio dropped from 10.2 percent in 2012 to 3.1 percent in 2017. Each year, 13.7 million impoverished people were pulled out of poverty.

The battle against poverty, a hard nut laying in front of the whole world, is a task of all mankind. In the 40 years of reform and opening up, China has successfully lifted 800 million people out of poverty, a miracle in mankind's poverty alleviation history.

UN Secretary-General Antonio Guterres pointed out that targeted poverty reduction strategies are the only way to reach those farthest behind and achieve the ambitious targets set out in the 2030 Agenda for Sustainable Development.

China has lifted hundreds of millions of people out of poverty, and its experiences can provide valuable lessons to other developing countries, the UN official added.

The Chinese government has offered strong capital and policy support in order to win the battle against poverty with flying colors. For instance, more rights have been delegated to county-level governments in the approval of poverty alleviation funds.

Data showed that 95 percent of funding was directly accessible by county-level governments in 2017, up from 70 percent in 2014.

An accumulated 443.7 billion yuan ($ 64.8 billion) of micro loans were granted to support 11.23 million registered impoverished households for industrial development. Besides, a series of policies on tax and finance, land, transport, water, electricity, and renovation of dilapidated buildings were rolled out in a combined manner.

According to statistics, there are still 30 million impoverished people in rural China that need to be lifted out of poverty in the next three years. A large proportion of them are poor because of illness and physical disabilities.

To realize precision in poverty reduction, accurate calculation and study is a must-to-do thing. In 2014, China built a national poverty alleviation and development information system based on village-to-village and household-to-household identification across the country that enabled the government to get information on the distribution of impoverished population, causes of impoverishment and their demands for poverty reduction.

The registration accuracy of impoverished people has reached 98 percent. China's data on poverty has for the first time covered individual villages, households, and even each person.

China's endeavor in targeted poverty alleviation also tries to seek effective remedies and take differentiated policies for different problems.

Five supplementary approaches, including fostering distinctive industries, advancing relocation, ecological compensation, strengthening education and improving social welfare system, have been introduced by China to achieve its goal.

The country has started pilot e-commerce programs in 428 counties to alleviate poverty and launched tourism-driven poverty alleviation program in 22,600 impoverished villages. Poverty alleviation through developing industries is enjoying a good momentum.

In addition, China plans to have 10 million people relocated for poverty reduction between 2016 and 2020. A total of 370,000 registered impoverished residents have been employed as forest protectors.

Besides, students from poverty-stricken households have been basically able to receive free vocational and high school education.

Improving social security is the final step to effectively combine rural basic living allowances and poverty reduction and development. Through these measures, the country will be able to provide aid and guarantees for all those in need.