By Liu Junguo from People's Daily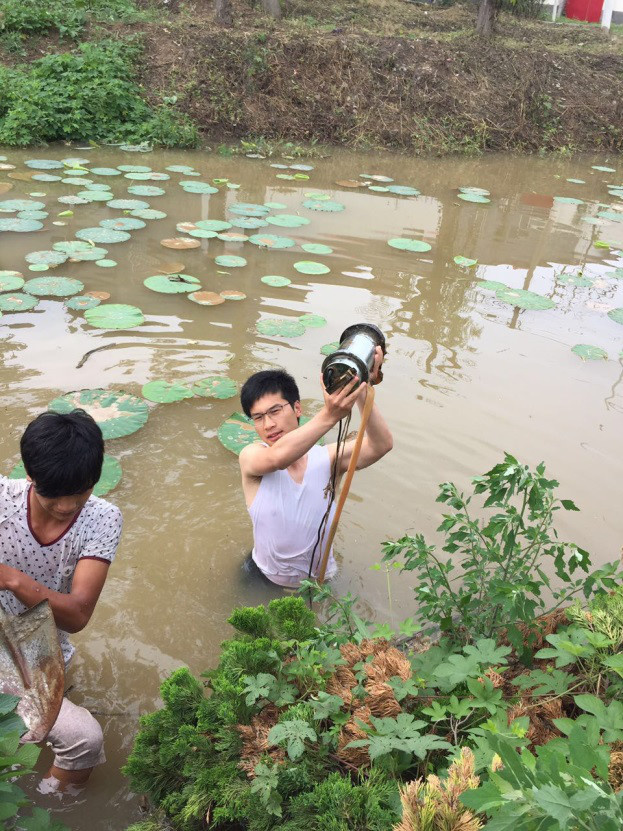 Shi Shengyu, first Party secretary of Weidianji Village, Yucheng County, central China's Henan Province, helps villagers retrieve their pump in fast-moving water from an unexpected heavy rain. Shi was designated by People's Daily to help the impoverished villagers.
China has achieved a lot in poverty alleviation over the past several years, and has managed to lift 13.91 million people out of poverty per year on average thanks to President Xi Jinping's "precise" poverty relief measures. This impressive performance has become a role model in the world's efforts to eliminate poverty.

The number of rural Chinese living under the poverty line dropped from 98.99 million in 2013 to 43.35 million in 2016, the People's Daily said in an article on Tuesday, citing figures released by the State Council poverty alleviation office.
This targeted poverty relief strategy can be seen as the secret of China's major successes in cracking this hard nut, a problem faced by the whole world, said the article.

Xi first raised the idea about the targeted poverty relief strategy in November 2013 when he visited a village in Huayuan County in central China's Hunan Province. He then expounded on the philosophy behind the strategy and the basic requirements of it, while presiding over a Communist Party of China (CPC) symposium on poverty relief and economic and social development in Guizhou Province in June, 2015.

Xi then filled out the policy with more detailed plans at a central work conference on poverty reduction. He urged governments to carry out more targeted and precise measures especially when arranging projects, allocating funds, doing evaluations precisely, monitoring the progress of projects and the use of funds and personnel. He also called for policies tailored to the specific local situation and cause of the poverty.

For key approaches to the relief project, Xi cited industrial development, relocation, environmental protection, education, social welfare and financial and medical support from the government, but also encouraged financial input from industries and social forces. He said the social welfare system should provide basic living conditions for those impoverished and who are out of work.

China started its registration work on the poor in 2014, and has identified 29.48 million poverty-stricken families, 89.62 million poor people and 128,000 impoverished villages, and has pinpointed their distribution, examined the sources of their poverty and determined what is needed to get rid of the poverty.

Every year on December 31, local governments have to register the latest survey of population figures and number of people that get out of poverty.

To increase the number of those on the front-lines of poverty alleviation, China is assigning outstanding cadres to help in the villages. The number of cadres at the grassroots level was estimated at 2.78 million after the 18th National Congress of the CPC in 2012.

China said it had plans to lift more than 10 million people out of poverty in 2017. This figure reached 13 million on average over the past five years. The country has also offered its opinions on global poverty reduction through a similar targeted poverty alleviation program.

UN Secretary-General Antonio Guterres, in a congratulation letter to the 2017 Global Poverty Reduction and Development Forum, spoke highly of China's poverty alleviation achievements, and asserted the belief that targeted poverty alleviation was the only way to help the poorest people and achieve the major goals set for the UN's 2030 Agenda for Sustainable Development.

China has lifted hundreds of millions of people out of poverty, and its experience can offer valuable lessons to other developing countries, he concluded.