From: People's Daily and Global Times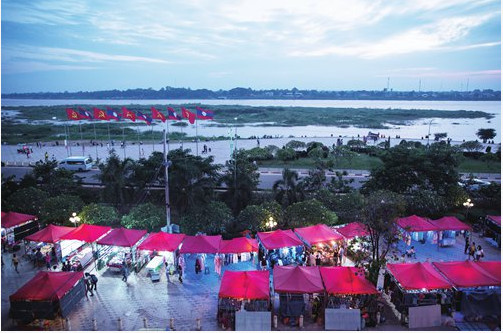 Street stalls at a night market by the Mekong River in Vientiane, Laos in November 2017 Photo: VCG.
Chinese investors in Laos believe there is great potential for China-Laos business ties, even though some challenges still remain in terms of investment in the country. 
Since a proposed amendment to a law on promotion of investment was introduced to the National Assembly in Laos in November 2016, the country has been stepping up efforts to improve the business environment for foreign investors, Chen Cuiying, general manager of a Laos-based subsidiary of Yunnan State Farms Group Co, told the Global Times over the weekend. 
Agriculture is one of the main sectors targeted by Chinese investors in the neighboring country. In recent years, Laos has also seen a growing amount of Chinese investment in electricity, mining and manufacturing. 
"The official visit of Chinese President Xi Jinping to Laos will boost the business ties between the two nations, and the cooperation will also expand into the modern agriculture sector," Chen said, noting that the company aims to produce and sell 300,000 tons of rubber annually in Laos by 2020.
Xi will visit the country from Monday to Tuesday, the Xinhua News Agency reported on Sunday. 
The Southeast Asian country is an active partner in the China-proposed Belt and Road initiative and has seen a growing trade volume with China in recent years, helped by the fact that the two countries' economies are highly complementary. 
Bilateral trade increased 25.1 percent year-on-year in the first nine months of 2017, reaching $2.1 billion, Gao Feng, spokesman for the Chinese Ministry of Commerce, said at a press conference on November 2. 
China is now Laos' second-largest trading partner, and China's accumulated outbound investment in Laos reached $6.31 billion as of September.  
Chinese telecommunications services provider Huawei Technologies entered the Laotian market in 1998, and has since set up a subsidiary in the country that has more than 200 employees, 70 percent of whom are local residents, Gao Yang, a PR manager at the subsidiary, told the Global Times on Sunday. 
"As the business ties between China and Laos are growing stronger, Huawei also plans to increase its investment in the country to help develop its information and communications technology," he said.
Hongxin Industrial Co, a motorcycle company that entered Laos 20 years ago, now has a market share of around 30 percent in the country.
Li Wenke, president of the company, told the Global Times on Sunday that Hongxin is eyeing new opportunities, based on economic growth and improvement in local people's living standards. 
"To seize opportunities brought about by the Belt and Road initiative and China-Laos railway, we have purchased 40 engineering vehicles and invested nearly 40 million yuan to set up four stores along the railway," he said.
Chinese companies have lots of opportunities to develop in Laos, especially in the infrastructure sector, which remains a weak point in the country, Li said. Laos also has a "stable political situation, low labor costs, and rich resources," he noted.
Though the volume of Chinese investment has been growing rapidly, Chinese investors in Laos still experience some difficulties in doing business there. 
"There is control over foreign exchange settlement accounts in terms of a company's profits, which requires approval from the Bank of Laos," Chen said, noting that the approval process usually takes a long time and is not transparent. 
The local authorities ought to improve their efficiency, and there should be more of a crackdown on widespread corruption in administrative institutions, she said. 
Also, it is hard to find skilled workers in Laos as many local people are not well educated, and some projects have been delayed due to a lack of employees, Chen noted.
The relative lack of infrastructure compared to other Southeast Asian countries is another problem, Gao said. "Without a sea port, the country has low transport capacity, and the electricity supply is also insufficient," he explained. 
Amid the country's economic growth, competition in Laos is becoming fiercer. "In addition to Chinese companies, their counterparts in Vietnam, Thailand, South Korea and other Asian countries are also investing in the country. Take the motorcycle and automobile industry - Chinese brands are encountering strong competition from their Japanese counterparts," Li said.