By Zhang Penghui, People's Daily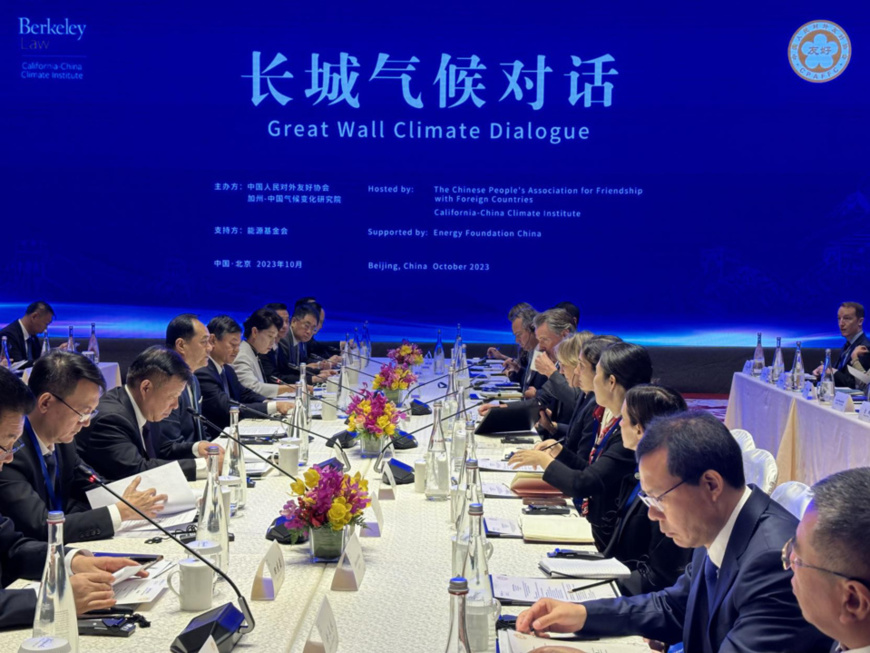 The Great Wall Climate Dialogue is held at a hotel near Yanqi Lake in Beijing's northern outskirts, Oct. 26, 2023. (Photo by Zhang Penghui/People's Daily)
The Great Wall Climate Dialogue co-hosted by the Chinese People's Association for Friendship with Foreign Countries and the California-China Climate Institute was held at a hotel near Yanqi Lake in Beijing's northern outskirts on Oct. 26.

Both Chinese and American guests attending the dialogue believe that addressing climate change requires global action, especially close cooperation between China and the United States. There exist tremendous opportunities for cooperation between China and the United States in areas such as green development and climate change response.

China's Minister of Ecology and Environment Huang Runqiu said in his remarks that the Chinese path to modernization is a process of modernization of harmony between humanity and nature, and China always attaches high importance to addressing climate change.

In recent years, China has vigorously implemented a series of strategies, measures and actions to cope with climate change. By 2022, China's carbon emission intensity has cumulatively declined by over 51 percent compared to 2005 levels, which represents outstanding results in climate change response.

To jointly address global environmental and climate challenges, China and the U.S. should further consolidate cooperative mechanisms, maintain good partnership, play an exemplary leading role, promote comprehensive cooperation at all levels, and strengthen joint efforts to advance global environmental and climate governance progress.

China-U.S. environment and climate cooperation dates back to the 1980s and is an important part of bilateral relations. The leaders of the two countries successively issued three joint statements on climate change, providing political solutions and making historic contributions to the successful conclusion and rapid entry into force of the Paris Agreement.

In 2022, China's Ministry of Ecology and Environment signed a Memorandum of Understanding on cooperation with California. Since then, the two sides have carried out a series of policy dialogues in areas including carbon markets and nature-based solutions.

California Governor Gavin Newsom said in his speech that climate change is a common challenge faced by all countries, and in recent years, California has been deeply affected by climate change, with frequent extreme weather events like heatwaves, droughts and floods.

As the world's two largest economies, the United States and China bear major responsibilities in addressing climate change, Newsom remarked. He noted California is at the forefront of U.S.states in green development, but still has limitations and room for improvement. The two sides should fully utilize innovation and investment tools, find solutions to tackle climate change. He hopes that the United States and China can share wisdom and experience, deepen green cooperation, and jointly contribute to global climate change response.

Yang Wanming, president of the Chinese People's Association for Friendship with Foreign Countries, said climate change is a common challenge faced by humanity, and strengthening sub-national cooperation between China and the United States in addressing climate change and promoting green development helps advance the two countries' respective green development, is beneficial for the global population, and contributes to the healthy and stable development of the China-US relationship.

Leaders from the Chinese provinces and autonomous regions of Inner Mongolia, Jiangsu, Guangdong, Hainan and Sichuan introduced specific actions and successful experiences in implementing the green development philosophy, expressing their willingness to strengthen exchanges and cooperation with the California government in areas such as clean energy, technological innovation, low-carbon transportation and green agriculture, in order to vitalize sub-national exchanges between China and the United States as well as international cooperation on climate change response.

Wade Crowfoot, Secretary of the California Natural Resources Agency, said via video link that California has set ambitious goals for achieving sustainable development, and the next it will ensure these goals are implemented. Over the past 30 years, California's air quality has significantly improved, and it plans for all vehicles to use clean energy by 2035. The United States and China can learn from each other in areas like improving air quality, Crowfoot noted.

Chair of the California Energy Commission David Hochschild congratulated China on its leading achievements in the new energy industry. He highlighted that the United States and China are located on both sides of the Pacific Ocean, the ocean winds provide endless energy for wind power projects in both countries. He expressed his hope for closer cooperation with China in the development of clean energy.

Newsom said he opposes the view that U.S.-China cooperation is a zero-sum game, noting that decoupling is not an option for the two countries. He said the two sides should strengthen communication, and join hands to cope with climate change and other challenges facing the world.

He noted that China plays an important role in addressing climate change and California is a long-term, strong and reliable partner of China in promoting sub-national cooperation between the two countries. Especially in reducing carbon emissions and achieving green growth, the two sides can carry out more cooperation, he added.