By Pei Guangjiang, Xie Yahong and Yang Xun from People's Daily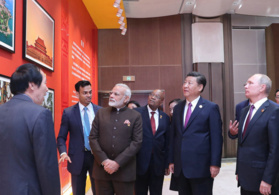 An improved connectivity is significant to promote BRICS cooperation and has brought benefit to the people in the five countries, business representatives from BRICS members agreed at a panel discussion on connectivity during the BRICS Business Forum in Xiamen on September 4.

Nine guests from the business circle of the five BRICS countries- Brazil, Russia, India, China and South Africa-exchanged views on BRICS cooperation during the discussion.

"When we were exploring new energy resources in South Africa, we found that some rural areas in the country had not found access to electricity, then we started to build distributed power generation, micro-grids and solar power stations so that kids in those places could read and study under electric light," Shu Yinbiao, chairman of State Grid Corp of China, shared a vivid story to show what benefits connectivity can generate.

Infrastructure connectivity, with huge development potentials, has been given priority by BRICS members in their pragmatic collaboration.

Over the years, the State Grid has invested more than $20.9 billion in Brazil, a figure which is expected to double in the next three years, Shu said. Now the State Grid has become the largest power distribution and transmission company in Brazil.

Currently, Chinese companies are working with their Russian counterparts to design Russia's first high-speed rail line linking Moscow and Kazan. The construction is scheduled to start in 2018.

In the next 20 years, the explosive growth in the number of global passenger planes and airlines will open up more opportunities for China, India, Brazil and other countries.

Thanks to an increased connectivity, the Atlantic, the Pacific Ocean and the Indian Ocean are no longer insurmountable barriers for BRICS countries.

Waves of innovation-driven development brought by "Internet Plus" strategy, digital economy and sharing economy caught wide attention at the discussion.

Sun Pishu, chairman of Inspur Group Co Ltd., said interconnectivity driven by big data and cloud computing has facilitated economy of the BRICS countries and the world at large.

"To pursue common prosperity, we must achieve interconnectivity of infrastructure and all kinds of factors of production, extend and break physical boundaries so that all countries can share information and resources to achieve win-win cooperation," Sun said to People's Daily.

Guinean President Alpha Conde, who was invited to attend the Dialogue Between Emerging Market Economies and Developing Countries, said he was pretty impressed by the digital economy of the BRICS nations.

"Africa hopes to catch up with the tide of the fourth industrial revolution since it has missed the previous three," Conde said.

Africa is working to build a free trade zone covering the whole continent and the biggest bottleneck for the endeavor is the lack of infrastructure interconnectivity, Conde pointed out. "It is crucial for Africa to enhance cooperation with the BRICS countries so that it could join the fourth industrial revolution."
People-to-people and cultural exchanges are key to bolster the interconnectivity of BRICS cooperation. In recent years, especially this year since China took over the BRICS presidency, a slew of events to boost cultural exchanges have drawn the BRICS people's hearts closer.

"It surprised me when I saw the Chinese people talking about 'Dangal', an Indian movie which I'm not familiar with but a lot of the Chinese people know about," said Onkar Singh Kanwar, chairman and CEO of Apollo Tyres of India.