By Tian Hong from People's Daily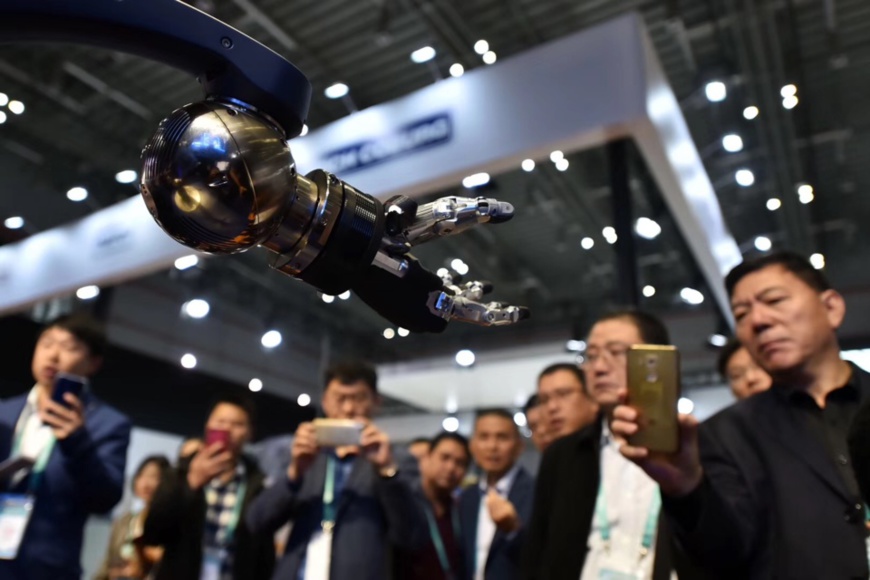 A series of cutting-edge technological products are applied to guarantee the smooth operation of the first China International Import Expo (CIIE).

Shanghai Hongqiao Central Business District (SHCBD), where the CIIE venue National Exhibition and Convention Center (NECC) locates, has jointly established a metropolitan smart information platform of the Internet of Things (IoT).

The platform, applying the latest technologies such as wireless communication, IoT, artificial intelligence and big data, offers guarantee and data support to the improvement of city image.
By the end of October, more than 10,000 IoT sensors of over 20 types have been installed in the SHCBD, covering an area of 2.4 square kilometers. These sensors are placed to have a comprehensive monitoring of the area's environment, fire control safety, public facility management and convenient services.

It is learnt that the Shanghai branch of China Mobile, one of China's largest telecommunication carriers, has expanded the capacity of wireless communication in the exhibition hall in advance.
At present, the free WiFi service of the company covers the whole convention center and can be connected by as much as 500,000 mobile phones. Under stress test, the speed of the service reached 60 Mb/s.

The network can also be automatically adjusted according to real time traffic and actual use, which perfectly fits the expo's characteristic regarding visitor traffic.

In addition, a command vehicle of the China Mobile Shanghai branch has been deployed to the northern square of the NECC. The vehicle is equipped with a mega-capacity Luneburg-lens antenna independently developed by China. The antenna is said to be the most powerful antenna produced by China that can triple the content of wireless communication.

Besides, 30 information stations have been tailored for the CIIE, offering content searching, smart charging, and automatic translation services. So far, the CIIE has opened a service counter that offers English services, and 5 more languages including Japanese, Korean, German, French and Spanish will soon be available.

With over 20 5G bases installed at the convention center, the NECC is now broadly covered by 5G network. In addition, the world's first integrated small-sized 5G base has been introduced to the main exhibition hall, to showcase China's application of the 5G technology in different fields to foreign guests.

The S26 Expressway is an important path that links the NECC with downtown Shanghai and Jiangsu province. Multiple advanced technologies have been applied to it.

For instance, the cast-in-site box girder of the main span that weighs as much as 3,050 tonnes was removed from the original piers, the heaviest in the history of single-body bridge removal, thanks to which the expressway opened to traffic 100 days ahead of schedule.

In addition, special noise barriers have been set in some sections of the road,effectively shielding away the noises made by the passing vehicles.