By Ma Xiaoning, Guan Kejiang and Huang Fahong from People's Daily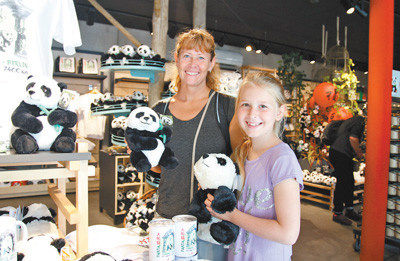 Tourists from Denmark are delightedly selecting Chinese panda themed souvenirs in a gift shop of the Berlin Zoo. (Photo by Guan Kejiang from People's Daily)
The Panda Garden of Berlin Zoo where two Chinese giant pandas Meng Meng and Jiao Qing will live opened on Wednesday. The pandas given to German by China as national gift will play significant role in boosting friendship between the two peoples.

Chinese President Xi Jinping, together with German Chancellor Angela Merkel, attended the opening ceremony of the garden during his state visit to Germany, which stirred a giant panda fever in the country and even the whole Europe.

"It is a great honor that heads of the two countries could witness the grand event in our zoo, as it has never happened before," Andreas Knieriem, director of the Berlin Zoo told the People's Daily.

He added that the zoo was so proud for hosting another pair of pandas, as the animal symbolizes friendship and peace.

The two pandas arrived in Berlin ten days ago after a flight from Chengdu, bringing such great joy to Berlin that German media was flooded with reports about the pandas for days.

To greet the two pandas, the Berlin Zoo spent about 10 million euros in building a new home occupying 5,500 square meters for them, which was described by Knieriem as the most modern one in Europe.

It is not the first time that pandas came to Berlin as a national gift given by China as such cases can be traced back to the 1980s.

Chinese pandas' arrival in Germany will bring more pleasure to German people upon the 45th anniversary of the establishment of diplomatic relations between China and Germany.

An event themed "Experience China - Sichuan Chengdu Culture Week" was held from July 5 to 9 to create strong cultural atmosphere for the opening event, as Chengdu is the birthplace of the pandas.

The activity was organized by China Culture Center in Berlin, Information Office of Chengdu Municipal People's Government and Chengdu Bureau of Culture, Radio, Television, News and Publication.

The pandas will serve as excellent diplomatic ambassadors, and the "giant panda fever" will lead to another wave of Chinese culture, which will further contribute to friendship between the two countries and their peoples, said Chen Jianyang, director of China Culture Center in Berlin.

German media is also aware of the significant role that the pandas will play in promoting the China-Germany relations in the future.

Daily Mirror commented that the two pandas' arrival not only makes Berlin Zoo much more popular, but also indicates a closer political relationship between the two countries.

In addition, the Frankfurter Allgemeine Zeitung noted that the pair of pandas China has given to Germany as a national gift shows that Chinese government attaches great importance to China-Germany relations.

Their arrival delivers the signal of mutual trust, reciprocity and solid partnership between the two countries, the paper added.