By Gu Yekai, People's Daily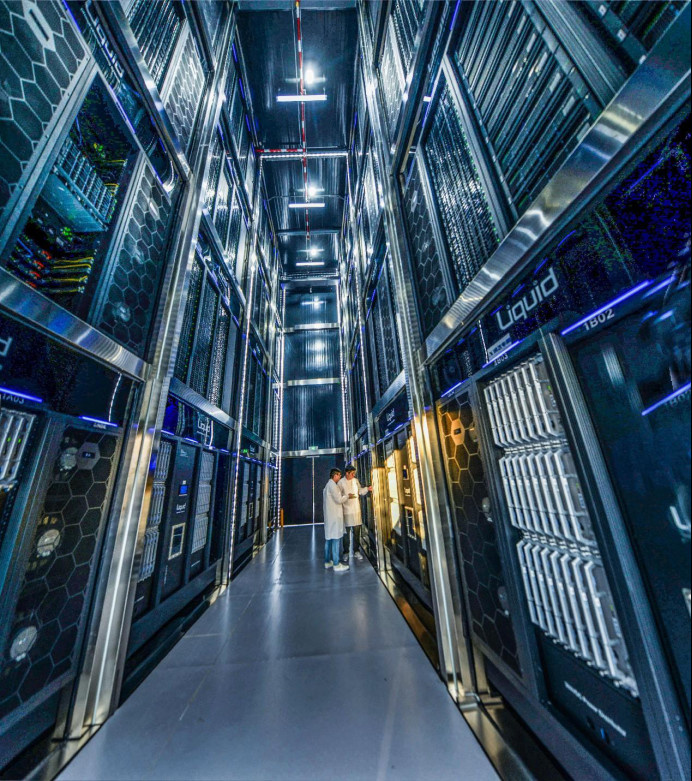 Photo shows an intelligent computing center in Hefei, east China's Anhui province. (Photo by Liu Bingsheng/People's Daily Online)
An artificial intelligence (AI) supercomputing center was recently launched in Ningbo National Hi-Tech Industrial Development Zone, east China's Zhejiang province, which is able to perform at 100 Pflops in half-precision mode.

In north China's Tianjin municipality, the first-phase project of an intelligent computing center was completed at the end of 2022. It includes over 850 enterprises and research institutes, and boasts a combined computing capacity of 120 Pflops.

Besides, a number of projects focusing on smart healthcare and smart office have been inked recently at an intelligent computing center in Chengdu, southwest China's Sichuan province, which was officially put into operation last May.

Intelligent computing centers, built based on the latest AI theories and adopting advanced AI computing architecture, provide computing, data and algorithm services. They play a crucial role in promoting the development of AI and the digital economy.

Statistics show that currently over 30 cities across China are constructing or planning to build intelligent computing centers, most of which are in the east of the country. Central and western parts of the country are also following this trend.

The innovative development of intelligent computing centers is expected to become a new engine accelerating the progress of AI and relevant industries.

Computing resource is an important foundation for the development of the digital economy. As the digital economy prospers, new business forms and models diversify application scenarios, and the scale of computing power is constantly expanding with rising demand.

According to statistics recently released by China's Ministry of Industry and Information Technology, over 6.5 million standard rack units were in service at the country's data centers last year, and China's computing power scale expanded 25 percent annually on average in the past five years.

Statistics from the International Data Corporation, a market intelligence company, indicate that China's intelligent computing power reached 268 EFlops last year, and is expected to see compound annual growth of 52.3 percent in the next five years.

As the scale expands rapidly, intelligent computing centers adapt to the needs of the industry and provide a better and newer model of computing power supply, said Shan Zhiguang, Director-General of the Department of Informatization and Industry Development under the State Information Center.

"Intelligent computing centers will become major production and supply centers of computing power in the intelligent era," Shan added.

Intelligent computing centers can support various kinds of technological innovation. They can build a safe, trustable and reusable environment for technological development, which offers intelligent computing services and accelerates the process of research and development.

Besides, intelligent computing centers are an integrated application carrier for new information technologies. The construction and massive use of these centers will promote the upgrading of communication networks, big data, AI and other technologies.

Last August, China's Alibaba Cloud, one of the world's largest cloud computing companies, launched a full-stack intelligent computing solution, the Feitian Intelligent Computing Platform, which supports the construction of two super-large-scale intelligent computing centers.

One of the centers, located in north China's Hebei province, comes with a designed AI computing power of 12 EFlops. Another one in Ulanqab, north China's Inner Mongolia autonomous region can offer 3 EFlops.

A research project on targeted therapeutic medicines launched by the College of Chemistry and Molecular Engineering of Peking University has benefited from the full-stack intelligent computing solution.

The solution enabled the research team to establish a data set that significantly improved the team's computing efficiency, providing the statistical basis for an AI-assisted prediction model.
Intelligent computing centers nurture new business models. The intelligent connected vehicle industry, which is now on the "fast lane," is a good example.

In January this year, Haomo.AI, a Chinese autonomous driving startup, set up an intelligent computing center with a total computing power of 670 PFlops[https://www.chinadaily.com.cn/a/202301/05/WS63b69769a31057c47eba7e65.html]. The computing center has effectively lowered the company's training cost for autopilot models, significantly improved computing efficiency and upgraded the vehicle perception architecture.

It is estimated that during 2021-2025 period, cities' investment in intelligent computing centers could expand core AI industries by 2.9 to 3.4 times if 80 percent of computing power is operational in these centers.

Intelligent computing centers are able to drive exponential growth in AI and relevant industries, serving as a new impetus for economic growth.