By Wu Lejun from People's Daily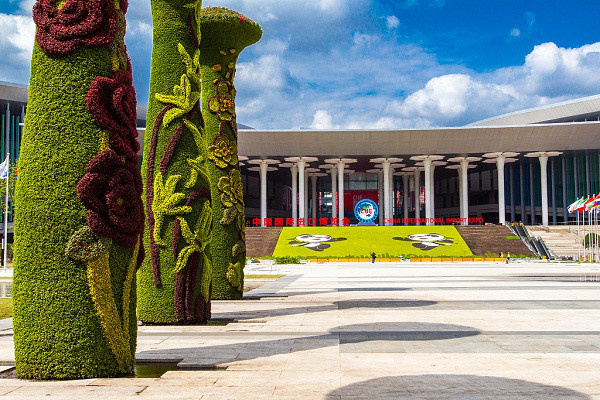 US President Donald Trump said US attaches great importance to economic and trade cooperation with China and is willing to continue expanding exports to the country. The Trump administration is backing US businesses in participating in the first China International Import Expo (CIIE).

Nearly 180 America companies from fields such as Internet technology, automobile, household appliance, manufacturing and agriculture will exhibit at the first CIIE to be held in Shanghai, according to statistics.
GE Appliances is one of the earliest American companies to confirm participation at the CIIE. 

"This Expo is a great opportunity for us to showcase our brands and products to Chinese consumers as we continue to grow our business outside the US. Being an exhibitor at CIIE will allow consumers, clients and business partners touch and experience our products." Julie Wood, Senior Director of GE Appliances Public Relations told the People's Daily recently.

Headquartered in Louisville, Kentucky, GE appliances started as the home appliances division of General Electric (GE) in the US. Founded in 1907, it is one of the leading manufacturers of home appliances in America. 

However due to fierce competition in the home appliance industry, GE once faced difficulties, which weighed down on GE's overall performance. When GE decided to sell GE appliances, a number of well-known home appliance companies from around the world bid for it.

In 2016, the Haier Group acquired GE appliances for $5.58 billion, with the board of directors consisting of general electric appliances and Haier's executive team and two independent directors for guiding the company's strategy and business operation.

After acquisition, the company has not only been successful in the US market, but also expanding in China. 

GE appliances grew at a rate of 1.5 times the industry in 2017. 

"Haier is the number one appliance company with multiple brands all around the globe. GE Appliances is growing and working to become the leading appliance manufacturer in the US. Under Haier we believe that the growth of the GE brand in China could present great products to Chinese consumers who are looking for larger luxury appliances,"  Wood said.

She told the People's Daily that Haier has invested in their facilities and products including investments in new technology, products, and the expansion of US manufacturing operations and distribution network. 

Since May, GE Appliances has announced $475 million in investments meant to create over 1,000 US jobs. Kentucky Governor Matt Bevin praised the company's innovation and ambition to become America's leading appliance maker. 
Louisville mayor Craig fisher also said the revival of GE home appliance park and its local investments have put the company ahead of the pack, and is good for the local community.  

"We have adopted a new go-to-market strategy which our customers love. We now have a house of brands – Monogram, GE, GE Profile, Café, and Haier – that builds on the great legacy of the GE brand. Adopting the Haier microenterprise model is allowing GE Appliances to be nimble and entrepreneurial," Wood added.

In her opinion, the American appliances industry is very mature with established brands and significant penetration of appliances in most households. In contrast, the Chinese appliance industry is still growing at double digits. 

As to the reasons for GE Appliances' presence at CIIE, Wood said, "With the Haier acquisition and their tremendous local presence throughout China, GE Appliances has a much better opportunity to increase our presence in the country. We have launched more products in the last two years under the GE and Monogram brands than ever before." 

She said GE Appliances believes there is a market for American-made products in China. "In fact, GE Appliances and Haier have opened 15 GE showrooms all over China where consumers could touch and experience our products. There are plans to triple the number of showrooms in 2019."

Commenting on current trade tension between US and China, Wood said like other American companies, GE Appliances is dealing with the same external environment and input materials inflation. 

"We continue to analyze the impact of tariffs already in effect and those proposed, while evaluating our options as we work with the government to try to obtain relief on these tariffs. Our primary focus is on securing relief on tariffs on components needed to manufacture at our US plants. Through our recently implemented microenterprise business model, we are connecting with customers better and growing our business," she added.