By Wu Qiuyu, People's Daily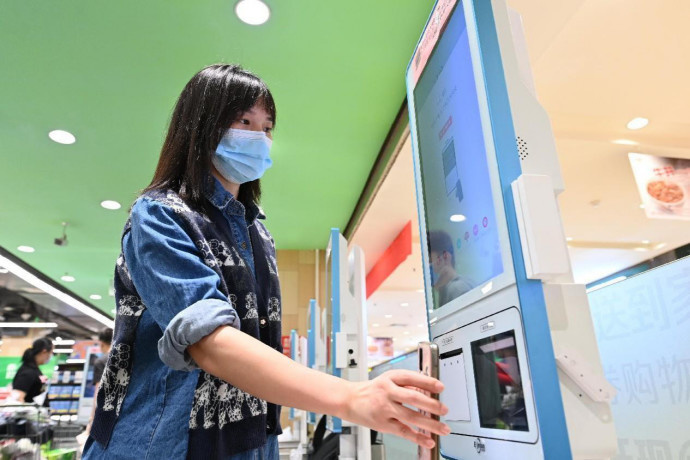 A citizen pays with digital yuan in a supermarket in Shapingba district, southwest China's Chongqing municipality. (Photo by Sun Kaifang/People's Daily Online)
Mobile payment now can still work when cellphone batteries is out-of-juice.

Earlier this year, the application of China's digital fiat currency, or the e-CNY app, launched a new tap-and-go payment service enabling users to pay without limitations of phone batteries and internet connection.

Over the recent years, technological innovation, particularly in the sector of digital economy, has become an important force driving new development impetus.

The expanding influence of digital economy is constantly optimizing the ecosystem and diversifying application scenarios for digital yuan.

According to a white paper issued by the People's Bank of China, China's central bank, the rapid development of the electronic payment, especially the mobile payment in China, while assisting the digital economy, has made digital payment a habit of the public and expanded people's demand for technological and service innovations.

The development and application of digital yuan are conducive to meeting people's demand for legal tender in the era of digital economy, and help improve the convenience, safety, and anti-counterfeiting performance of retail payments, thus promoting the development of China's digital economy, said Pan Helin, co-director of the Digital Economy and Financial Innovation Research Center at Zhejiang University's International Business School.

During the just-ended Chinese New Year holiday, digital yuan brought consumers not only convenience, but also benefits.

Many local governments in cities where digital yuan programs are piloted issued digital yuan vouchers during the holiday, which further expanded the application of the digital currency.

According to statistics released by Meituan, a Chinese shopping platform for locally found consumer products and retail services, during the Chinese New Year holiday, the number of digital yuan transactions on the platform increased nearly fourfold from a year ago, and the number of digital yuan users expanded five times. The total digital yuan transaction volume surged 6.2 times year on year.

Local authorities issued digital yuan vouchers because of the smart contract function of digital yuan. This function uses a computer program to write contracts and automatically fulfills the contractual obligations by making digital yuan payments according to the agreed-upon conditions. This function could help with the targeted issuance of financial subsidies.

Zhou Maohua, an analyst with the China Everbright Bank, told People's Daily that the combination of digital yuan and such scenarios as vouchers and e-commerce platforms could better promote the digital currency and boost the recovery of the consumption market.

So far, the People's Bank of China has piloted digital yuan programs in 17 provinces, autonomous regions, and municipalities across the country.

According to incomplete statistics, local governments in those places have launched nearly 50 digital yuan promotion activities since 2022, forcefully boosting consumption recovery and releasing consumption potential.

As of the end of 2022, the amount of digital yuan in circulation reached 13.61 billion yuan ($2.01 billion).

Experts believe that as a public good provided by the People's Bank of China to the domestic retail payment market, digital yuan will further lower the access to financial services and make these services more inclusive.

Via the wallet in the e-CNY app, digital yuan can bring convenient financial services to residents in rural and remote areas who have no bank account, which is conducive to the development of inclusive finance, said Dong Ximiao, chief researcher with Merchants Union Consumer Finance Company Limited, adding that foreign tourists without any Chinese bank account can also finish small-value transfers via the wallet.

Digital yuan is a quasi-account-based payment instrument with loosely coupled account linkage, which means users can open digital yuan wallets and pay with digital currency with their mobile phone numbers or other sole identities, even if they don't have a bank account, Dong said.

"The goal of digital yuan development and pilot programs is to serve the real economy and facilitate people's life," Dong told People's Daily, adding that the digital currency will play a bigger role in improving payment efficiency and expanding the inclusiveness of financial services as it is further promoted and used.