By Wang Yuan from People's Daily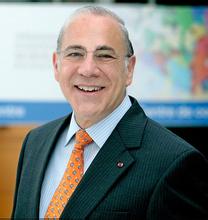 Angel Gurria, Secretary-General of the Organization of Economic Cooperation and Development (OECD) praised the great leadership demonstrated by China during the just-concluded G20 Summit as the host country.

China, as this year's rotating presidency of G20, not only selected the right and well-timed agendas for the summit, but facilitated an effective collaboration between G20 members and the international organizations, he further explained.

Gurria made the statements in a recent interview with the People's Daily after he attended the Hangzhou Summit in early September.

According to the OECD chief, as today's world is headache with the lackluster growth, slowdown in productivity as well as unbalanced development, it is now particularly important for the international community to regain growth momentum and improve people's livelihood together.

The G20 can be a key player in bolstering international economic cooperation, he added. Citing the agenda of digital economy as an example, Gurria illustrated China's leadership to this end during the Hangzhou Summit.

Thanks to China's efforts, G20 leaders endorsed the G20 Digital Economy Development and Cooperation Initiative, the first digital economy policy document with global significance, and agreed to renew innovation and digitization as drivers of world economic growth, Gurria further explained.

The chief also spoke highly of China's enormous contributions to global trade and investment, stressing that even in this juncture when global growth lost shine and globalization cannot sustain a momentum, China still scored a remarkable economic growth.

China is now not only world's largest manufacturing economy and biggest exporter of goods, but also a major source for foreign direct investment, the official elaborated.

He at the same time suggested China further transform development model, so that it can sustain a more balanced growth amidst the new domestic and global environment.

"China has already begun to do so," he hailed. Illustrating that the country has managed to raise its added-value of trade in global chain, the OCED chief also called on further reform for the sake of a more efficient allocation of resources.

Gurria added that China is now setting an example for other countries in adapting to the new normal by investing more in intellectual capital and transforming itself towards low-carbon and green economy.

"China has clarified its willingness to move forwards a more inclusive, environment-friendly and sustained future. The OECD appreciates China's efforts and looks forward to establishing a long-term cooperative partnership with China", he concluded at last.