By Qiang Wei from People's Daily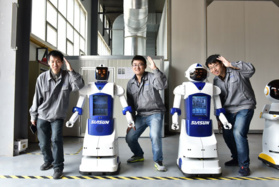 Microsoft founder Bill Gates' recent calls for income tax on robots triggered a public debate on whether the workers will be threatened by robots or artificial intelligence. Realizing the dilemma years earlier, China has given its prescription by prioritizing the robot industry in manufacturing sector.

"Right now, the human worker who does, say, 50,000 dollars worth of work in a factory, that income is taxed . . . If a robot comes in to do the same thing, you'd think that we'd tax the robot at a similar level," Gates said in a recent interview.

The world's wealthiest man suggested that tax be used as a way to fund other types of employment, such as retraining of workers replaced by robots.

Expert believed that the billionaire's "odd idea" was, in essence, seeking for a balance between rising efficiency brought by automation and the care for human interests, especially for the vulnerable groups.

Li Xiaohua, a research fellow with the Institute of Industrial Economics under Chinese Academy of Social Sciences (CASS), at the same time pointed out that if a certain country imposes tax on robots, its manufacturing industry's competence will be impeded because of slower rise of efficiency.

The export will then be affected by lower manufacturing efficiency, and more jobs will be slashed as a result, he added.

A new round of technological revolution and industrial transformation is emerging, so it's not a wise move to tax on robots and artificial intelligence since such decision will slow down the intellectualization process, Li explained.

Both robots and artificial intelligence are core of new economy represented by smart manufacturing, he added.

The stagnancy of China's manufacturing industry, if persists, will cause loss to factories with low efficiency or financial deficit. Therefore, the industry, pressed with the waning demographic dividend and rising labor cost, is in urgent need to be transformed and upgraded.

The farsighted Chinese government has realized the challenges earlier. In the "Made in China 2025" plan rolled out by State Council in 2015, industry robot was defined as a key player to shift the country away from low-end manufacturing.

It also listed robot industry a direction of future development, in a hope to upgrade the manufacturing sector into a digitized, intelligent industry with large sizes and completed system.

In addition to the efforts, China introduced more policies to guarantee employment. The government is tasked with creating at least 50 million new urban jobs, and capping unemployment rate at 5 percent by 2020, in the guidelines on promoting employment during the 13th Five-Year Plan (2016-2020) issued by the State Council at the end of January.