By Ma Xiaoning, Zhou Hanbo, Xie Yahong and Liu Junguo from People's Daily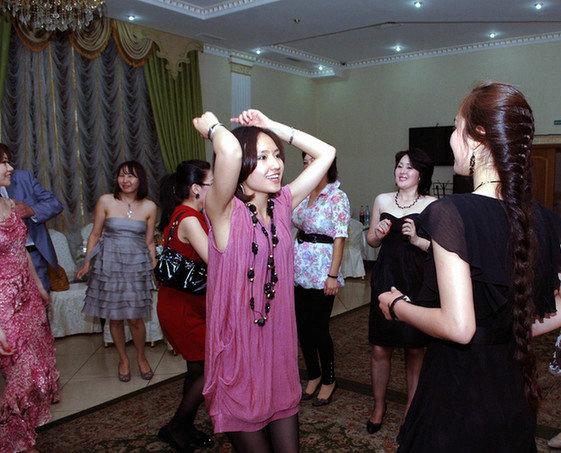 The China-proposed "Belt and Road" initiative has not only cemented the economic ties of countries along the routes, but also linked their peoples together. The moving love story of a young Chinese lady and her husband from Kazakhstan, the birth place of the initiative, is the best evidence of such bonds.

The "Belt and Road" initiative was first introduced by Chinese President Xi Jinping during his visit to Kazakhstan in September 2013. In a speech delivered at Nazarbayev University in Astana, Xi suggested that China and Central Asia should cooperate to build a Silk Road Economic Belt.

In his speech, he also cited the love story between a young Chinese man and a Kazakh woman named Valentina to illustrate the close relations between the peoples of the two countries.

Three and a half years later, the fates of a beautiful Chinese woman Han Jianghong and a young Kazakh man named Alman were once again bonded as a result of the Belt and Road initiative.

Alman, a Chinese interpreter working at the Karazhanbas Oil Field in Kazakhstan, operated under the CITIC Group, met Han in 2008 when she was sent to there as a Russian interpreter. "I tried everything to get close to her," said Alman, adding that they had many chances to communicate since they were both interpreters.

Alman helped to improve Han's Russian skills and became familiar with her during the work. His sincerity touched Han, and Han finally accepted his love.

Later, Alman left the oil field and worked for Aktau Asphalt Plant, a Sino-Kazakh joint venture. The couple married in 2013, and their baby Aruzana was born at the end of the same year.

Their romance started from the "Silk Road" since both the Karazhanbas Oil Field and Aktau Asphalt Plant are key projects of capacity cooperation under the framework of the Belt and Road initiative. Their trans-national marriage, the only one in his hometown, brightens up the ancient route.
However, fate played its trick on Alman when he was immersed in happiness after marriage.

In April 2016, Alman didn't feel well, suffering frequent nosebleeds and headaches. Local hospitals couldn't make an accurate diagnosis, and Alman himself didn't pay much attention at first. Han, worried about her husband's situation, took him to Dalian in Northeast China's Liaoning Province for treatment.

"After 20 different tests, I was diagnosed with M3 acute leukemia," said Alman, adding that people suffering from the disease would normally die in two months if they did not receive timely treatment.

According to the young Kazakh man, he would have missed his last chance if Han had not persisted, since he had already wasted three weeks before coming to China. It is Han and the Chinese doctors who saved his life. After a six months treatment in China, Alman's disease is currently in remission.

Han shouldered a great pressure during the treatment. "She would stay with me whenever she's free, taking care of and encouraging me. She brought me hope at the hardest time of my life," said Alman.

The couple also received assistance from both the Karazhanbas Oil Field and Aktau Asphalt Plant. "The companies' help relieved our economic burden and made us focus on the treatment," Alman told the People's Daily.

"I'll be fully recovered if my disease doesn't recur in the next five years," Alman said, adding that his family will embrace a happy life, since both he and his wife will benefit from promising career developments thanks to the close economic and trade relations between Kazakhstan and China.

The love story told by President Xi and the one between Alman and Han both witness the friendship between the peoples of the two countries.

Alman said that Aruzana, the name of his child, means a beautiful mind. Now Aruzana is able to speak Chinese, Russian and Kazakh. The girl with the beautiful mind and multilingual ability is believed to be another envoy linking the friendship of the two countries, just like her parents.