By Zhao Cheng from People's Daily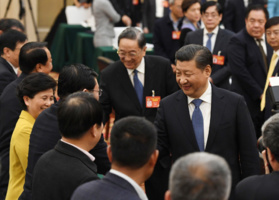 Chinese President Xi Jinping on Saturday exhorted the nation's intellectuals to commit themselves to innovation-driven development and play a bigger role in contributing to a better nation.

Xi made the remarks when joining a panel discussion with political advisors from the China Association for Promoting Democracy (CAPD), the Chinese Peasants and Workers Democratic Party (CPWDP) and the Jiu San Society at the fifth session of the 12th National Committee of the Chinese People's Political Consultative Conference (CPPCC).

The Chinese President, who is also General Secretary of the CPC Central Committee and Chairman of the Central Military Commission, said that intellectuals should increase knowledge accumulation, strengthen innovation awareness and improve innovation capacity by focusing on the core links of economic competitiveness, the bottlenecks restraining social development and the major challenges of national security.

The interests of the country and nation should be put at the first place, he added, encouraging the intellectuals to take the initiative and help make nation a great scientific power.

The whole society should care for and respect intellectuals and cultivate a favorable environment that honors knowledge and intellectuals, Xi said, adding that authorities must create better conditions, speed up the mechanism-building and follow the work features of intellectuals so that they can concentrate on their duties and fully unleash their talent.

Defining this year as an important year for the "13th Five-Year Plan" and a year to deepen the supply-side structural reform, Xi said that in-depth research, proper solution and joint efforts are required to meet all the challenges.

"Everyone should stick to the implementation of the '13th Five-Year Plan' and goals for economic-social development around the year and make in-depth research on maintaining the stable and healthy development of economy as well as social harmony before proposing practical and effective solutions," the President emphasized.

"The General Secretary responded to my advice!" said the advisors after the joint panel discussion.

Zhao Lihong, member of the CPPCC National Committee, member of the CAPD Central Committee and Vice President of Shanghai Writers Association told People's Daily that China's culture intellectuals should implement the spirit of Xi's important speech and create excellent works that belong to China to let the world appreciate or even marvel at the Chinese culture.

Zhou Jianmin, member of the CPPCC National Committee, Vice Chairman of CPPCC Jiangsu Provincial Committee and Chairman of CPWDP Jiangsu Committee, pointed out that given the rapid development of technology, we should notice that China still lags behind in primary innovation.

"We intellectuals should actively devote to innovation-driven development and make due contribution to the country so as to build a major socialism country of innovation," added Zhou, who also spoke at the joint panel.