By Liu Lingling from People's Daily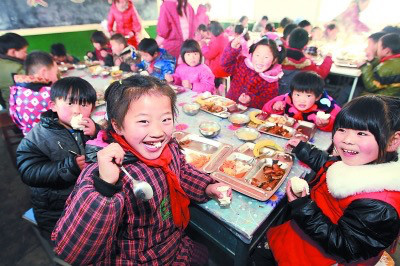 Left-behind children, whose parents have left rural areas to become migrant workers in towns or cities, enjoy their free lunch in the school canteen in central China's Anhui province. (Photo from People's Daily Online)
China provided financial support for 95.9 million students including preschool children in 2017,or 1877 yuan (297 dollars) every student , according to data released by China's Ministry of Education (MOE) at a press conference on March 1.

Last year was also the 11th consecutive year of growth in the number of students who were subsidized, the spending of financial aid, and amount of funds from government, school and society, said the ministry.

Financial aid for students in 2017 exceeded 180 billion yuan (about $28 billion), an 11.45-percent growth over the previous year, according to the MOE data.

China's aid system is available to all students from pre-schoolers to post-graduates , from public to private schools, and those in financial difficulties, with an aim to ensure every student has access to education.

In 2017, tuition and fee exemptions and the free textbook policy have benefited all students enrolled in compulsory education. Moreover, 37 million students benefited from fiscal support for school meals.

China's government, in its report to the 19th National Congress of the Communist Party of China (CPC), stressed the importance of improving student financial aid system.

Targeted financial support will remain at the top of the student aid agenda this year to make sure that students from poor families are subsidized in time and with full amount that well satisfy their needs.