By Du Haitao, Wang Ke and Wang Guan from People's Daily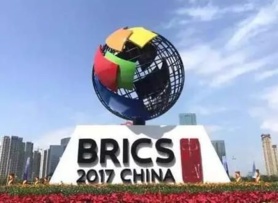 The increasingly closer economic and trade cooperation among the five BRICS members have endowed their 3 billion people with tangible benefits including more consumption choices, larger entrepreneurship space and better life.

The young generations have benefited from investment and startup opportunities created by the cooperation of the bloc comprised of Brazil, Russia, India, China and South Africa.

Marcos, a Brazilian young man, has already made a name for his stone trading company in Chinese and Brazilian markets after starting his building material business two years ago in Xiamen, the costal city where the upcoming BRICS Summit will be held.

Brazil is rich in stone, but most of them are natural ones with few breed and high price, while the cost-effective agglomerate made in China is popular among Brazilian clients, he explained the reasons why he bet on demands of his country. The export value of his company exceeded $10 million last year.

Indian citizens living in Mumbai, a torrid, humid and dusty coastal city, are another beneficiary of the BRICS cooperation, as the safe and comfortable metro trains customized by Chinese manufacturer for them have made their travel more convenient.

Infrastructure construction, which has become a force driving the economic growth of BRICS countries, also brings local public new hopes for a better life, said Jim O'Neill, the economist who coined the original term BRIC.

Over the past decade, BRICS members have set up nearly 100 cooperative mechanisms to propel all-round collaboration and improve the public's livelihood, an official with China's Ministry of Commerce pointed out, indicating that the mechanisms cover economy, trade, finance, agriculture, education, technology, culture and think-tanks.

Trade ministers of BRICS nations, during their August meeting in Shanghai, promised to provide the investors with "one-stop service" by streamlining the administrative procedures, so that the enterprises could go through the process in a most convenient way.

In the same month, the New Development Bank (NDB), a multilateral financial institution set up by BRICS, launched its Africa Regional Center in South Africa, in order to "inject blood" to Africa's development.

Since its establishment, the NDB has effectively ensured the capital flow and trade of BRICS members while devoting to simplifying the procedures for their settlement and loaning business and reducing their dependence on US dollars and euro.

China's e-commerce industry, in recent years, has also injected new impetus into BRICS cooperation with an eye-catching performance.

Data showed that Alipay, the online and mobile payment platform operated by Ant Financial Services Group, now has more than 40 million overseas users, with Russia and Brazil among the biggest contributors to these registrars. Ant Financial is the finance arm of Chinese e-commerce giant Alibaba.

Indian e-commerce company Paytm has risen to the country's top mobile wallet and the third largest in the world. Behind its success stands Ant Financial who injected capital and provided technical support to the platform with 220 million users so far.

The BRICS members are also expected to cooperate more in culture, education and sports spheres. "Brazil is a football kingdom, and we are ready to introduce Brazilian football to China," said Su Guoli, director of the liaison office of Brazilian city Foz do Iguaçu in Xiamen.

He elaborated that they planned to invite 1,000 Brazilian students aged between 13 to 20 for a study tour in Xiamen, during which they will participate in football training offered by local schools.

The event, according to Su, aims to improve football skills and beef up the friendship of the youth.

A report released by online travel agency Ctrip revealed that the number of Chinese tourists choosing Russia, India, Brazil and South Africa as destinations grew over 50 percent last year, while the visitors from BRICS members are making up a bigger share among China's inbound tourists as well.

Given a slowed growth of BRICS economies in recent years, some voices began to sing the blue, asserting that "BRICS of gold is seeing a fading shine".

"Instead of being tarnished, the BRICS cooperative mechanism will shine ever brighter in future," stressed Zhang Jianping, a researcher with the commerce ministry, adding that BRICS members far outweigh the US, Japan and other developed counterparts in terms of contribution to global economic growth.

The BRICS cooperation will be enriched in the long run as their huge potential in trade and investment collaboration is tapped, Zhang added.