By He Yin, People's Daily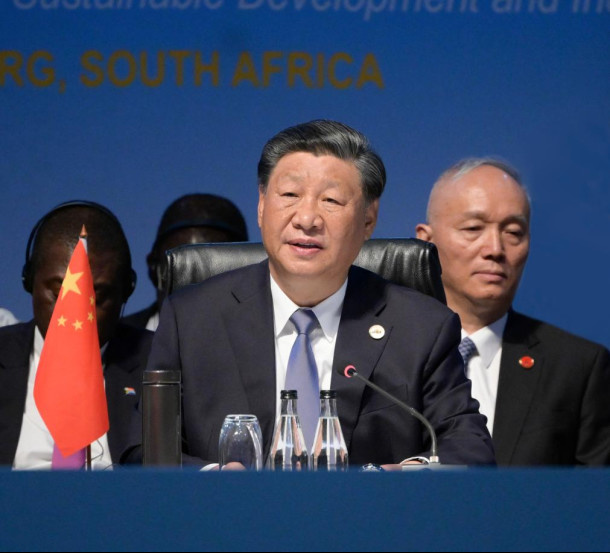 Chinese President Xi Jinping delivers a speech titled "Hand in Hand Toward a Community of Shared Development" at the BRICS-Africa Outreach and BRICS Plus Dialogue in Johannesburg, South Africa, Aug. 24, 2023. (Photo: Li Xueren/Xinhua)
Historic moment in BRICS cooperation was witnessed in Johannesburg, South Africa.

At a press conference during the 15th BRICS Summit, Saudi Arabia, Egypt, the United Arab Emirates (UAE), Argentina, Iran and Ethiopia are formally invited to join the BRICS family. The six countries' membership will take effect on Jan. 1, 2024.

This historic expansion reflects the resolution of the BRICS countries to unite and cooperate with other developing nations, marking a new starting point for BRICS cooperation.
Expanding from 5 to 11 members, the BRICS cooperation mechanism has bolstered its global influence. With 3 more Asian members, 2 more African members, and 1 more member in Latin America, the mechanism has increased its global representation.

After expansion, the proportion of the combined population of BRICS countries to the world's total will increase from 42 percent to 47 percent, its economic aggregate from 26 percent to 29 percent, and its total trade in goods from 18 percent to 21 percent. The expanded BRICS carries greater significance.

This historic expansion meets the expectations of the international community and serves the common interests of emerging markets and developing countries.

Right now, changes in the world, in the times and in history are unfolding in ways like never before, bringing human society to a critical juncture.

The rising unilateralism, protectionism, the Cold War mentality, zero-sum game mindset, hegemonism and power politics are threatening world peace and stability. The international community needs positive forces upholding open cooperation, safeguarding peace and stability, promoting development and prosperity, and strengthening mutual learning and exchanges.

Many emerging markets and developing countries have come to what they are today after shaking off the yoke of colonialism, and have a stronger desire to safeguard peaceful development and pursue fairness and justice.

Emerging markets and developing countries have contributed as high as 80 percent of global growth in the past 20 years, and their share in the global GDP has increased from 24 percent 40 years ago to more than 40 percent. They have greater capabilities to safeguard peaceful development and pursue fairness and justice.

BRICS expansion conforms to the trend of the collective rise of emerging markets and developing countries, and will further strengthen the forces for world peace and development.

This historic expansion fully demonstrates BRICS countries' appeal, injecting fresh vitality into the BRICS cooperation mechanism.

Over the past 17 years, the giant ship of BRICS has sailed forward tenaciously against raging torrents and storms. Riding the wind and cleaving the waves, it has embarked on a righteous course of mutual support and win-win cooperation.

Upholding the spirit of openness, inclusiveness and win-win cooperation, BRICS countries have expanded cooperation in various spheres, making important contributions to world peace and development and gaining wide recognition and support from the international community.

Ahead of the summit this year, over 40 countries had expressed their interest in joining the BRICS mechanism, over 20 of which had formally submitted applications. It fully demonstrated the enthusiasm and desire of emerging markets and developing countries for unity and self-improvement.

With more members across a broader geography, the expanded BRICS family has greater space for cooperation, injecting strong positive energy into the BRICS cooperation at this critical historical juncture.

This historic expansion will further pool BRICS strength and increase the Global South members' representation and voice in global governance.

The BRICS countries have come together to promote peace and development, pursue fairness and justice, advocate mutual benefit and win-win cooperation, and safeguard common interests. They will continue deepening solidarity and cooperation and play a greater role in global governance.

Saudi Arabia said it looks forward to developing this type of cooperation and creating new development and economic opportunities, as well as elevating its relationship with relevant countries to the desired level.

Egypt hopes to coordinate with BRICS members to achieve economic cooperation goals and voice the standpoint of the Global South on shared challenges.

The UAE said it agrees with BRICS leaders' common vision for humanity's future development and looks forward to deepening cooperation with all parties to achieve common prosperity worldwide.

Argentina said joining the BRICS mechanism will provide the country with excellent development opportunities and open a new chapter. Iran called joining BRICS a historic step and Ethiopia called it a great moment.

These voices for solidarity and cooperation will contribute to building a better world. After the expansion, BRICS will be able to make the system of global governance fairer and more equitable.

The BRICS cooperation has immense potential and the future is bright for BRICS countries. The expanded BRICS family will forge stronger BRICS strategic partnership and expand the "BRICS Plus" model, writing new chapters of solidarity and cooperation for development among emerging markets and developing countries.

Together they will work to shape a landscape for peaceful development and contribute strength to building a community with a shared future for mankind.