By He Yin, People's Daily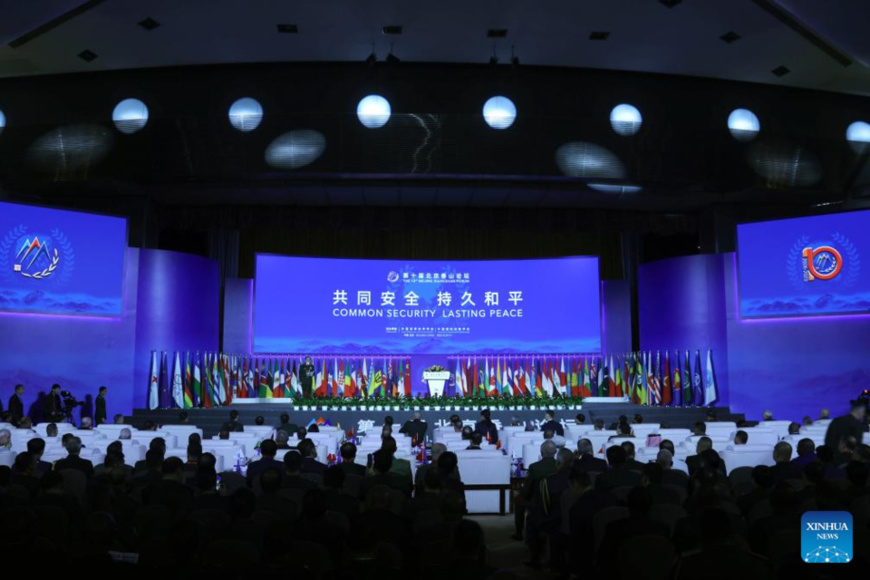 This photo taken on Oct. 30, 2023 shows the opening ceremony of the 10th Beijing Xiangshan Forum in Beijing, capital of China. The opening ceremony of the 10th Beijing Xiangshan Forum was held at the Beijing International Convention Center Monday. (Photo by Song Fangwu/Xinhua)
The 10th Beijing Xiangshan Forum, themed "Common Security, Lasting Peace," concluded in Beijing on Oct. 31.

This year's session of the Beijing Xiangshan Forum reached new historic highs in both scale and level. It witnessed extensive and in-depth exchanges and even contention between participants, demonstrating the principles of equality, openness, inclusiveness, and mutual learning and achieving the purpose of pooling wisdom, expanding consensus, and enhancing mutual trust.

The continuously growing influence of the Beijing Xiangshan Forum reflects the significance the international community accords to peace and security issues, and embodies various parties' trust in and support for China's efforts to promote the implementation of the Global Security Initiative (GSI) and play a leading role in advancing global security cooperation.

In today's world, security issues are increasingly interconnected, transnational and diverse. Regional security hotspots keep flaring up, local conflicts and turbulence occur frequently, with traditional and non-traditional security threats intertwined.

In the face of global security challenges, it's imperative that countries strengthen communication and cooperation so as to solve security dilemmas.

Responding to global security hotspots, the topics of dialogues, seminars and other activities at the 10th Beijing Xiangshan Forum, including major-country relations, security in the Asia-Pacific region, artificial intelligence, nuclear risk management and control, a new security architecture in the Middle East and mechanisms for peace in Europe, showed global vision and inclusiveness, providing a broad platform for exchanges between various parties.

The candid exchanges of views between participants as they jointly explored the path to global peace and security are of great positive significance under the current international circumstances.

"I strongly believe that this year's Beijing Xiangshan Forum is an ideal platform to address the impending issues and to initiate proactive approaches to find solutions to problems, in order to have a stable and secure region," said Vice-Admiral Piyal De Silva, former commander of the Sri Lanka Navy.

Respecting each other's reasonable security concerns and ensuring all countries enjoy equal rights to express their security needs is an important prerequisite for building and maintaining a world of common security and lasting peace.

Many arrangements of the 10th Beijing Xiangshan Forum were welcomed by developing countries. For instance, one of the topics at the plenary sessions was "the role of developing countries in global security"; panel sessions and seminars covered topics including "the Global South and global security governance", "the significance of BRICS membership expansion", "the expectations of developing countries for globalization"; and representatives of small and medium-sized countries accounted for a considerable proportion of speaking slots at relevant meetings.

One important contribution China has made is making many voices that were not heard by the international community in the past increasingly louder now, said Joseph Kahama, secretary general of the Tanzania-China Friendship Promotion Association.

More and more countries included in the Global South trust China, because China can help relevant countries make their voices heard on the global stage, he noted.

The Beijing Xiangshan Forum represents a significant event hosted by China to implement the GSI.

Calling on countries to adapt to the profoundly changing international landscape in the spirit of solidarity and address traditional and non-traditional security threats and challenges with a win-win mindset, the GSI aims to create a new path to security that features dialogue over confrontation, partnership over alliance and win-win over zero-sum.

It has injected confidence into countries' efforts to maintain and achieve common and universal security, and is bound to continue helping build a more peaceful and safer world.

In February this year, China released "The Global Security Initiative Concept Paper", proposing 20 priorities of cooperation under the framework of the GSI and suggestions on platforms and mechanisms of cooperation.

Defense ministers from many countries attending the 10th Beijing Xiangshan Forum fully affirmed China's contributions to maintaining world peace and promoting regional development.

Belarusian Defense Minister Viktor Khrenin said he hopes the international community will work together to implement the GSI and achieve peaceful coexistence among all countries.

China unswervingly pursues an independent foreign policy of peace. It has always decided its position and policy on issues based on their own merits, and it has strived to uphold the basic norms governing international relations and safeguard international fairness and justice.

It strives to safeguard world peace and development as it pursues its own development, and it makes contributions to world peace and development through its own development.

China has actively participated in and promoted multilateral security cooperation, engaged in mediation diplomacy, made unremitting efforts for the political settlement of hotspot issues, cooperated with other parties in non-traditional security domains such as anti-terrorism, cyberspace, food security, and climate change, and promoted improvement in international platforms and mechanisms for dialogues and exchanges on addressing security challenges.

By carrying out extensive consultation and making concerted efforts with various parties, China has pushed for solid implementation of the GSI, demonstrating its strong sense of duty as a responsible major country.

In today's interconnected world, all countries are closely connected and humanity shares a common future. The historical trend of peace, development, and win-win cooperation is unstoppable.

China will continue upholding the vision of common, comprehensive, cooperative and sustainable security, and work with all members of the international community committed to peace and development to actively promote the implementation of the GSI, jointly enrich its connotations and practices, and make new contributions to promoting common security of humankind and lasting peace of the world.