By Huang Ge Source:Global Times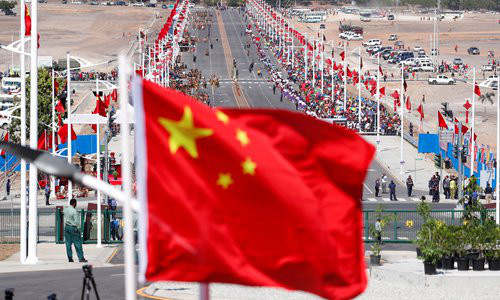 A Chinese national flag flies in front of a Chinese-built road before a welcome ceremony for Chinese President Xi Jinping ahead of the APEC Summit in Port Moresby, Papua New Guinea on Friday. Photo: VCG
Chinese President Xi Jinping and Papua New Guinea (PNG) Prime Minister Peter O'Neill agreed on Friday to establish a comprehensive strategic partnership between their countries, as analysts called the bilateral ties a "role model" for China and Pacific island countries.

The decision was made at a meeting between Xi and O'Neill, where they spoke positively of the traditional friendship between China and PNG and charted the course for the development of bilateral relations.

Noting that this is the first state visit by the Chinese president to PNG, O'Neill said the visit is a historic moment for his country, the Xinhua News Agency reported. 

PNG thanked China for its long-term and precious support to the country's economic and social development, the Chinese medical team for helping control and prevent the spread of malaria in remote areas, and for China's assistance in disaster relief and reconstruction after a recent earthquake, O'Neill said, Xinhua reported. 

Su Ge, chairman of China National Committee for Pacific Economic Cooperation, told the Global Times on Friday that after China and PNG established a strategic partnership in 2014, cooperation between both countries achieved significant progress, and the bilateral ties have become a role model for relations between China and Pacific island countries.

On Friday, Xi also met with leaders of seven other Pacific island countries that have diplomatic ties with China, including Samoa, the Cook Islands, Tonga and Niue. During their meetings, the leaders insisted on the one-China principle and discussed practical cooperation under the Belt and Road initiative, Xinhua reported.

China's cooperation with Pacific island countries is mutually beneficial as projects in the region also help extend the industry chain of Chinese companies and gain a wider market for investment and tourism, Chen Fengying, a research fellow at the China Institute of Contemporary International Relations in Beijing, told the Global Times on Friday.

China's investment in the region should not be hindered by concerns that China is wrestling with Western powers in the region to gain greater global influence, said Chen. 

Christopher Siaoa Mero, Papua New Guinea Ambassador to China, also shrugged off criticism that China is making use of its influence to infiltrate the Pacific, emphasizing that they "don't consider China a threat" in the region. 

China's growing presence in the region helps Pacific island countries boost their economies and build better infrastructure, he told the Global Times. 

"Though small in scale, the countries are independent. They are not the backyard of any nation and their aspirations for development should be respected," she said.

The inefficient development of South Pacific countries was also caused by some countries' spat with China over the Taiwan question, analysts noted. Taiwan keeps "diplomatic ties" with six of those countries in the region.

Warm welcome

Chinese national flags and Chinese knots are hung on both sides of Independence Boulevard in the capital city, where Xi and O'Neill attended the hand-over ceremony of the China-assisted road project on Friday.

When Xi arrived in the multifunctional hall at the Batuka Academy in Port Moresby, a friendship school built by Chinese firms, students chanted "welcome" in Chinese and English, and a chorus performed traditional Chinese folk song, Jasmine Flower, in Chinese.

"Business owners in PNG welcome help from Chinese companies, especially in infrastructure construction, as they realize how efficient domestic firms are and the good quality of projects," Zhou Wenjiang, vice general manager of the international business department of China Railway Construction Corp, told the Global Times on Friday.

A local worker at an office building construction site, who preferred to remain anonymous, told the Global Times, "I have many Chinese colleagues, they are friendly and I love Chinese people." 

PNG is the first stop of Xi's Asia-Pacific tour, which will also take him to Brunei and the Philippines. He will attend the APEC Economic Leaders' Meeting and deliver a speech at the APEC CEO summit on Saturday.

"Business representatives are looking forward to Xi's speech at the APEC CEO summit this year, as we want to hear what China will do, what plans China has to offer and the kind of help China can provide to APEC members," said a Chinese business representative named Zhang Lijun with Beijing-based V1 Group.