By Zhao Cheng from People's Daily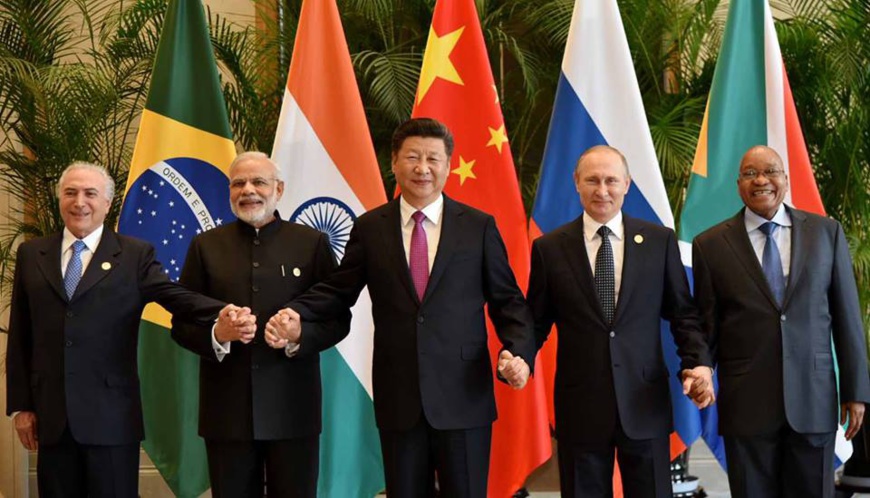 BRICS members should launch more outreach dialogue to benefit more parties with their cooperation, foster a "BRICS+" model of open cooperation, and set up a more broad-based South-South cooperation platform for the common development of emerging market economies and developing countries, State Councilor Yang Jiechi said recently as he expressed China's expectations towards the bloc.

Yang made the remarks at the First Sherpa Meeting of the 9th BRICS Summit in Nanjing, East China's Jiangsu Province on February 23.

"The 2017 BRICS Summit will be held from September 3-5 in Xiamen in East China's Fujian Province," the councilor declared to the world at the meeting. The theme of this year's event will be "BRICS: Stronger Partnership for a Brighter Future."

Chinese President Xi Jinping, at the 8th BRICS summit held in 2016 in the Indian city of Goa, urged BRICS members to build "a community of common actions," saying that the five countries not only share common interests, but also must step forward hand in hand.

Xi's proposals made clear the goal and direction for cooperation among BRICS countries, and delivered China's resolution to push BRICS countries for progress and a bigger role in global affairs.

The just-concluded Sherpa Meeting charted the course and depicted the roadmap for BRICS cooperation, laying a foundation for the preparation work of the Xiamen Summit.

Yang also clarified the priorities in preparations for the Xiamen Summit, urging BRICS members to enhance unity and coordination in improving global governance, deepen practical cooperation for win-win results, increase people-to-people exchanges to win greater popular support for BRICS cooperation, and strengthen institution building and improve cooperation platforms.

The New Development Bank and the Contingent Reserve Arrangement are known as two important carriers for practical cooperation among BRICS countries.

In future, the five BRICS countries are expected to continue to tap potential for cooperation, identify more converging interests in areas such as trade and investment, liberalization and facilitation, e-commerce, financial market connectivity, innovation-driven development, and carry out more result-oriented cooperation programs that can deliver economic and social benefits.

The BRICS grouping includes Brazil, Russia, India, China and South Africa. The BRICS cooperative mechanism was established in 2006.