By Chen Lidan (People's Daily Online)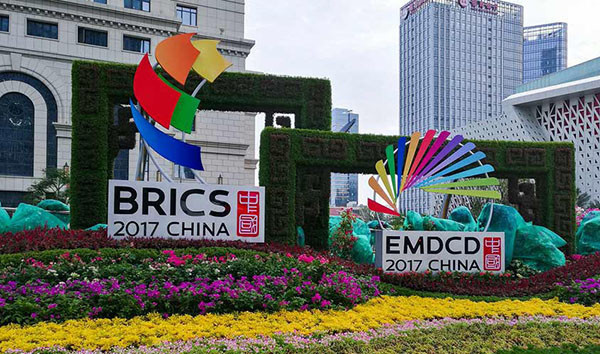 BRICS should enhance their collaboration in dealing with the peril of abusing trade remedy measures amid rising protectionism, Chinese officials said on Tuesday in Beijing.

The Chinese government on Wednesday announced Chinese President Xi Jinping will chair the 9th BRICS Summit that is set to be held in southeast China's coastal city of Xiamen from September 3 to 5. The theme of the meeting is: "BRICS: Stronger Partnership for a Brighter Future".

The partnership's future is facing the uncertainty brought in by the setbacks in free trade and globalization. BRICS countries should safeguard trade rules and strive to strike a balance between free trade and domestic interests, said Wang Shouwen, China's vice commerce minister, at a BRICS meeting on trade remedies.

WTO data showed last year the number of trade remedy investigations worldwide reached the highest level since 2009, with BRICS nations feeling much of the headwind. As of the mid-2016, the five member states found themselves on the receiving end of over one third of the world's anti-dumping and anti-subsidy probes.

"BRICS trade investigators have been expanding exchanges and cooperation and reached more consensus on support for the current multilateral trade system and opposition to all kinds of protectionism," Wang said.

If the bloc's five nations can employ the BRICS mechanism as a way to participate in global governance and write better rules for free trade, it would undoubtedly make a great contribution to global growth, particularly for emerging markets and developing countries, Zhang Jianping, director of the commerce ministry's research center for regional economic cooperation, told media.

In the BRICS trade ministers' meeting held in August, all five countries reiterated their commitment to safeguarding the multilateral trade system and opposition to protectionism. Such consensus, Zhang believed, would be reinforced in Xiamen next week.