By Liu Rui from People's Daily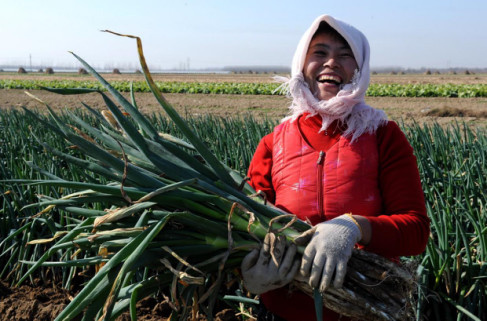 China has benefitted from its increased efforts in cracking down on corruption in poverty relief work, further cementing the country's remarkable accomplishments in poverty alleviation.

At the beginning of 2016, the Supreme People's Procuratorate (SPP) and Poverty Relief Office under the State Council declared a five-year anti-graft campaign to combat the misappropration and embezzlement of poverty relief funds.

In their work plan published last February, procuratorates and related government departments nationwide were directed to increase punishments for such crimes, with focuses on key areas, as well as to improve supervision of funds earmarked for poverty relief.

The decision was made after the Chinese government devoted more to eradicating poverty in rural areas. As more funds were allocated to grassroots level, some officials were found misusing money intended to aiding the poor. Their dereliction of duty has harmed public interests and infringed on the rights of the people.

A growing number of officials have been implicated for such crimes following the year-long crackdown. Data released by the SPP shows that between January and October of 2016, nearly 9,000 officials were investigated for alleged corruption, accounting for 65.7 percent of the total of exposed duty-related crimes.

China still has a long way to go before it completely eradicates poverty. According to the National Bureau of Statistics, China still had 55.75 million rural residents living under the poverty line at the end of 2015.

According to the 2020 goal set by the central government, China will solve regional poverty nationwide.

The pledge also serves as a foundation for an all-round moderately prosperous society and China's solemn promise to the world.

So far, remarkable accomplishments have been reaped from China's poverty elimination efforts. A total of 55.64 million rural people have been lifted out of poverty since 2013, or more than 10 million people each year.

Statistics show that expenditure-measured poverty incidences dropped 5.7 percentage points from 10.2 percent at the end of 2012 to 4.5 percent at the end of 2016.

In addition, the income of impoverished rural residents registered higher growth than the national average.

China's devotion to poverty relief has also received praise from the international community, who believe it contributes greatly to the world's combat on poverty.

Scholars and representatives of UN agencies hold that China's goal to eradicating extreme poverty by 2020 is in line with targets set by the UN General Assembly in its 2030 Agenda for Sustainable Development adopted in 2015.

China, however, will realize the UN's goal 10 years earlier than scheduled.

Gu Qing, an official with China office of United Nations Development Programme (UNDP), said that China's poverty relief undertakings, a key part of UN's agenda for sustainable development, are an example for the world.

The UNDP, in its China Human Development Report published last year, defined China's poverty alleviation as "hematopoietic" development, saying that the approach, drawn from decades of experience, can realize the final goal.

Hailing the measures adopted by China, including its targeted poverty alleviation policy and conditional cash transfer programs, the report said that China's approaches are effective in addressing the root causes of poverty.