By Han Xin, Liu Juanxi, People's Daily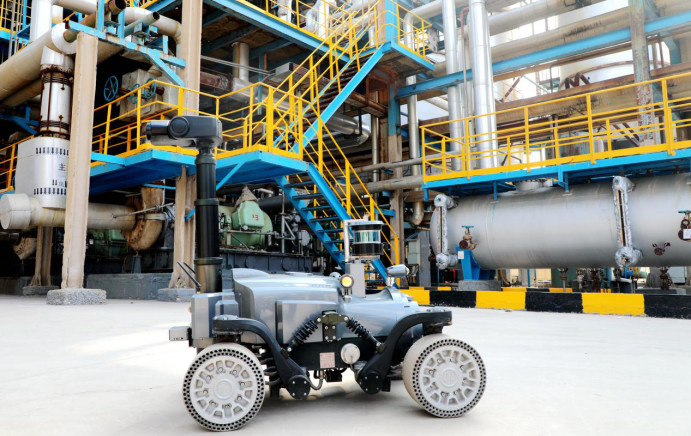 A smart robotic vehicle goes for an inspection tour in a plant of a chemical engineering corporation in Dongying, east China's Shandong province, Feb. 24, 2023. The vehicle is connected to a 5G local area network and equipped with various types of sensors that capture images, sounds, infrared pictures, as well as data of hazardous gases and temperature. It has effectively improved inspection quality and production safety. (Photo by Liu Zhifeng/People's Daily Online)
China's industrial economy is expected to recover in 2023, said Jin Zhuanglong, Minister of Industry and Information Technology.

The minister made the remarks while attending the first Ministers' Corridor press briefing of the first session of the 14th National People's Congress (NPC), which was hosted at the Great Hall of the People on March 5.

During the press briefing, he answered questions from journalists on hotspot issues such as stabilizing industrial growth, improving and transforming traditional industries, and the goals and focuses of 5G development this year.

Last year, China's value-added industrial output for the first time exceeded 40 trillion yuan ($5.78 trillion). Industry has further demonstrated its role as a ballast stone in macroeconomy.

In particular, the value-added output of manufacturing accounted for 27.7 percent of China's GDP, and China has maintained its position as the world's largest manufacturing hub for 13 straight years.

The minister said that the optimized COVID-19 response, combined with existing and incremental policies, will boost market confidence, with the vitality of market entities, consumption potential, and the driving force of industrial upgrading effectively released.

He added that China has the confidence, conditions, and capability to promote a stable recovery of the industrial economy.

China will take steps to stabilize industrial growth by fostering growth in key industries, expanding investment in manufacturing, and expanding the purchase of new energy vehicles and other big-ticket items.

The upgrading of traditional industries, which serve as the foundation of the modern industrial system, concerns the overall construction of the system.

According to Jin, traditional industries make up over 80 percent of the Chinese manufacturing sector. The ministry will promote traditional industries to move from the low- and mid-end of the industrial chain towards higher positions, focus on high-end manufacturing, and implement projects for upgrading foundational industrial infrastructure and developing key technologies and equipment.

It will focus on smart manufacturing and build a batch of intelligent factories and supply chains in key industries, and it has vowed to achieve carbon peaks in iron, nonferrous metal, construction material, and petrochemical industries.

Jin told the press conference that China has built the world's largest and most technically advanced 5G network, and 5G has been applied in over half of the country's 97 major economic categories. He said 600,000 5G base stations are expected to be built and put into use across the country this year.

According to him, China has covered all counties with 5G networks and will keep expanding the network connection to industrial parks. Over 10,000 5G factories will be built during the 14th Five-Year Plan period (2021-2025), he disclosed.

While summarizing the experiences in promoting the 5G technology, relevant industries, universities and research institutes will strengthen international cooperation on the development of the 6G technology, the minister said.