By Liu Junguo from People's Daily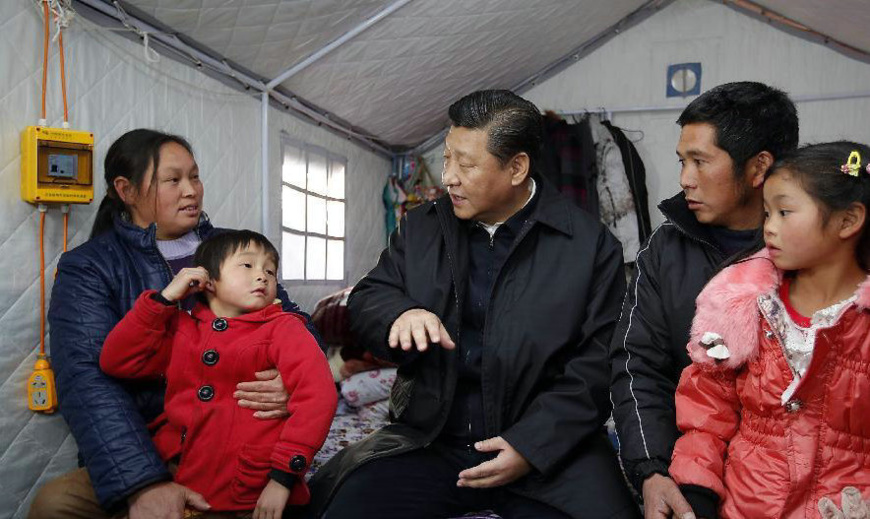 The battle against poverty has been high on the agenda of Xi Jinping, President of the world's most populous nation. Always harboring a sentiment towards the impoverished people, Xi has devoted much efforts to the poverty alleviation undertakings in his career.

"It is the least requirement of building an all-round moderately prosperous society and 'our solemn promise' to ensure that the rural poor shake off poverty as planned, and that all poverty-stricken counties be delisted and poor areas lifted out of poverty as a whole," Xi reiterated his determination to fight against poverty in a recent study session held by the Political Bureau of the Communist Party of China (CPC) Central Committee.

In his New Year Address upon arrival of 2017, he said that "at the very beginning of the New Year, what concerns me the most is those who are still in straitened circumstances. The deepest concern of my heart is how they fare and whether they will have a good New Year and a good Spring Festival. "

Xi's first taste of poverty could date back to early 1969 when he was sent to Liangjiahe village in Yan'an, Northwestern Shaanxi province, as a result of China's campaign to encourage educated urban youth to work in rural areas.

He was less than 16 years old when he was sent from Beijing to work as a farmer in a small village of Liangjiahe near Yan'an of Shaanxi Province, where he spent seven years. "I was struck on the abrupt turn from Beijing to such a poor place," he said, recalling the barren land, the dung used as manure as well as the poor harvest there.

He began his two-year service as a Party branch secretary of the village when he was 20 years old. Back to those days, all he wanted is to help villagers harvest more grains and earn a little pocket money.

In order to bring their dreams to reality, the villagers, under the leadership of Xi, spent days and nights to dig wells, and build terraces and sediment storage dams.

From 1982 to 1985, Xi served first as deputy secretary and then secretary of the CPC Zhengding County Committee in Hebei province.

The living conditions in the county at that time were poor as well. There was no dormitory at all, so he had to sleep on the bench in his office. Local people even did not have enough grain to gorge themselves.

Against the background, Xi expanded his footage in over 200 villages of the county to promote the household contract responsibility system, a rural reform launched then to allocate the farmers with land by contract. The farmers were entitled to any surpluses to the market or retain them for their own use.

Xihaigu, an area known as "bitter barren land" situated in the southern part of the Ningxia Hui Autonomous Region, was also witness of Xi's war on poverty.

Xi visited Xihaigu in 1997 for the first time, and the view of people's life there shocked him.

Local people even lived in caves, with nothing but bare walls, he recalled, adding that in some families, all members had to share two to three pants.

During his tenure as deputy secretary of the CPC Fujian Provincial Committee, Xi, in response to the call of the central government for counterpart assistance, led a team to assist the development of Ningxia. He also served as the team leader of a working group set up specially.

Thanks to their efforts, the dug wells and built cellars ensured local people with water for drinking and irrigation, and the potato yields were increased as a result.

Back when Xi served as deputy Party chief and governor of Fujian Province, he proposed "making real efforts to help the really poor." Poverty relief is all about solving real problems, he noted, also stressing the importance of precision in relevant efforts.

Children's education must be ensured for the sake of the next generation, Xi stressed, emphasizing the importance of basic public facilities like roads, water, electricity, and public services as well.

He also suggested teaching people "fishing" skills based on the local conditions and their abilities. The elderly, for example, can be offered with selected varieties, feeding methods and funds to raise chickens, ducks and sheep, so that they can get out of poverty with a yearly income of a few thousand yuan, he added.

The young people can be provided with training or job opportunities, while those engaged in planting and breeding industries need the ways to increase the added value of their products, he illustrated.