By Hu Jian, He Linping, People's Daily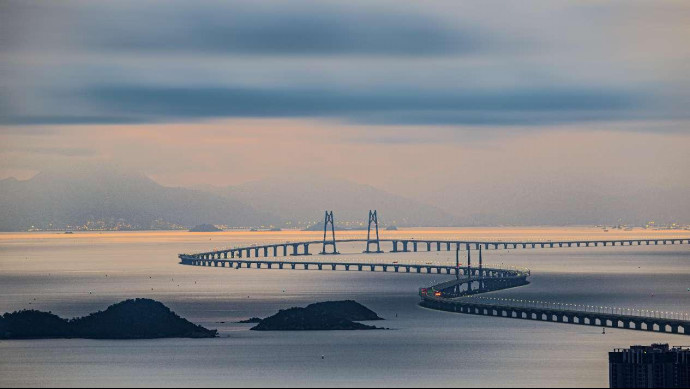 Photo shows the Hong Kong-Zhuhai-Macao Bridge. (Photo by Luo Linghao/People's Daily Online)
Since the beginning of this year, traffic on the Hong Kong-Zhuhai-Macao Bridge has become increasingly busier this year.

Hong Kong youth Wong Yeuikyun commutes between Hong Kong and Guangdong province each week, and the Hong Kong-Zhuhai-Macao Bridge is the passage he uses most frequently.

During the eight-day Mid-Autumn Festival and National Day holiday this year, Huang crossed the bridge with his family and had a wonderful time touring the Zhuhai countryside, soaking in the hot springs in Jiangmen, and shopping for souvenirs in Macao.

On Oct. 23, the Hong Kong-Zhuhai-Macao Bridge celebrated its 5th anniversary. Over the past five years, it has facilitated 36 million cross-border passenger trips and 7.5 million vehicle trips.

Traffic flow on the bridge has reached 2.35 million this year, and 7.02 million trips have been made by residents from Hong Kong and Macao passing through it. In particular, the bridge saw over 500,000 cross-border traveler trips during the Mid-Autumn Festival and National Day holiday.

With the frequent flows of personnel, capital and logistics, the Guangdong-Hong Kong-Macao Greater Bay Area is fastening its pace of integrated development with the accelerated construction of major cooperation platforms.

At 8 a.m., tour guide Su Guiping led 38 tourists from central China's Hubei province to Hong Kong through the bridge's Zhuhai land port, kicking off a 4-day tour in Hong Kong and Macao.

"Many tourists want to have a glimpse of the bridge," Su said.

The increasingly vibrant exchanges among Guangdong province, Hong Kong and Macao are driven by a strong mutual demand for each other. Many Hong Kong and Macao residents who have traveled to the mainland noted that they have had brand-new tourism experiences.

A Hong Kong resident surnamed Lai told People's Daily that he purchased a lot of specialties in the mainland for his family and friends, with so many bags and packages that filled his car.

Similarly, tourists from the mainland are also showing an increasing enthusiasm for visiting relatives, shopping, visiting exhibitions and seeing concerts in Hong Kong and Macao.

During this year's Mid-Autumn Festival and National Day holiday, the National Day fireworks display illuminated Hong Kong's sky after a five-year hiatus, and major activities such as lantern fairs and dragon dances were staged in Victoria Park. A total of 610,000 tourists from the mainland visited Hong Kong on the first four days of the holiday.

In the early morning of Oct. 20, the Zhuhai land port of the bridge witnessed another peak of truck departures. Lines of fully loaded trucks, carrying goods destined for Hong Kong or for export via Hong Kong, were waiting to pass the port.

Zhuhai-based Haimiao aquaculture trade company was the first enterprise to supply fresh seafood to Hong Kong after the opening of the Hong Kong-Zhuhai-Macao Bridge. Seafood harvested in the afternoon could make it to Hong Kong around midnight and be on the tables of Hong Kong residents by noon the next day.

"Our efficiency has been significantly improved, and the shipped seafood can keep fresher," said Weng Xipeng, general manager of the company.

The Hong Kong-Zhuhai-Macao Bridge has significantly reduced the travel time between Hong Kong and Zhuhai, as well as between Hong Kong and Macao, from three hours to just 45 minutes. The 24-hour customs clearance service at the port makes the bridge a logistics artery of the GBA.

Zhuhai is promoting the construction of a new economic and trade corridor along the Hong Kong-Zhuhai-Macao Bridge. With the bridge extension as the axis, important facilities such as cross-border e-commerce operation centers, a Guangdong-Hong Kong-Macao logistics park, an airport-based international smart logistics park, and the Gaolan Port Comprehensive Free Trade Zone are located from east to west.

This has actively facilitated the deep integration of personnel, logistics, capital, information, and innovation flows between the mainland, Hong Kong and Macao.

By the end of September, the total value of goods imported and exported through the Zhuhai land port of the Hong Kong-Zhuhai-Macao Bridge reached 718.75 billion yuan ($98.24 billion). The market has expanded to involve more than 230 countries and regions, compared to 105 in 2018.

"The transportation between Shenzhen and Hong Kong is very convenient. Starting a business here, I can enjoy in-store decoration support, brand promotion and other aspects. This is very appealing to me," said Chen Jiacong, a young man from Hong Kong who just graduated this year and runs a shop in a night market in Shenzhen.

Currently, cities in the Pearl River Delta, represented by Shenzhen, have basically established a well-functioning incubation system of innovation and entrepreneurship for young people from Hong Kong and Macao. This system supports entrepreneurial projects through measures such as entrepreneurial guaranteed loans, as well as subsidies for employment and entrepreneurship.


With continuous policy innovation, cooperation among Guangdong, Hong Kong, and Macao is deepening in areas such as education, healthcare, social security, and culture. The exchanges and connectivity among the three have expanded from tourism and family visits to employment, entrepreneurship, and people's livelihood.

"The GBA is one of the most open and economically vibrant regions in China," said Mao Yanhua, director of the Institute of Regional Openness and Cooperation at Sun Yat-sen University, and professor with the Center for Studies of Hong Kong, Macao and Pearl River Delta.

As the Hong Kong-Zhuhai-Macao Bridge keeps playing its role as an efficient transportation route for people and an artery for economic and trade activities, the increasingly integrated GBA will undoubtedly usher in a new period of rapid development, Mao noted.